Fashion Discussion: Miss America 2011 + Top Evening Gown Picks
The Evening Gown Rundown:
Of course first we must discuss the winner…
Miss Nebraska Teresa Scania and winner of Miss America 2011 title :
Her dress was very elegant and different from the styles I have seen on previous winners in most pageants recently. Still these type of dresses do best in the more traditional Miss America system. However any pageant follower knows winners often win in a white dress. A white dress a queenly innocent appeal that can stand out from bright or darkly hued dresses.
Her dress was not my favorite of the night but it was definitely a nod to old school pageant glamour. Miss USA winners often wear more modern runway style dresses.  I would have preferred the one should to have been a bit longer but the dress suited her figure as her waist ratio was not particularly smaller in comparison to her hips. The dress elongated her figure despite her athletic build.
Miss Arkansas Alyse Eady the Velvet Siren:
Her gown was simple but well-tailored. It showed off her coke bottle figure to perfection.  This black velvet dress is so much more simple than Miss Nebraska's gown but it is much more classic and has that old world glamour. Can you imagine if Meagan Fox had worn this to an awards ceremony?! Geez! However prehaps it seemed too simple against Teresa's white dress paired with her youthful exuberance (she is 17 years old!). Alyse may have had a better chance in a more vivid color like coral or a gown in ice blue or mint green. Still, her dress was very appropriate and struck exactly the right tone for the more conservative Miss America pageant. She was so fresh faced and noticeably well-gromed. The bigger question hitting the blogosphere is was Miss Arkansas robbed? What do you think?! I personally think she outperformed Miss Nebraska but cest la vie …   : (   The BEST girl doesn't always win.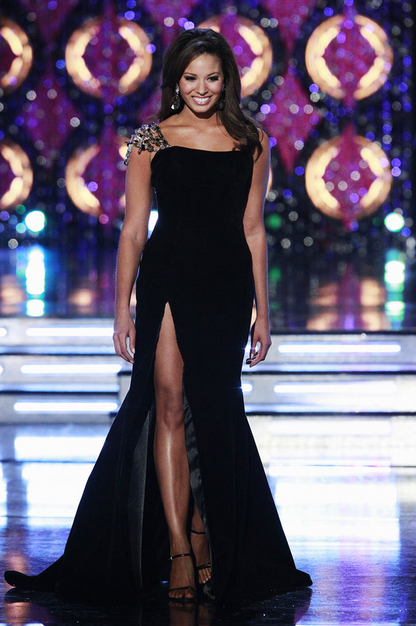 Miss Hawaii Jalee Fuslier:
Her dress was modern and sleek. It was my favorite gown of the night and I loved the way the material flowed on the runway. From the beading to the contrast colors of the beadwork against the main fabric, this dress was awesome. The beadwork was just the right touch and helped to make her skin glow on stage. This dress was a Miss Universe quality dress!  She looked polished and naturally elegant. Still, A mermaid train or more billowy skirt could have made all the difference!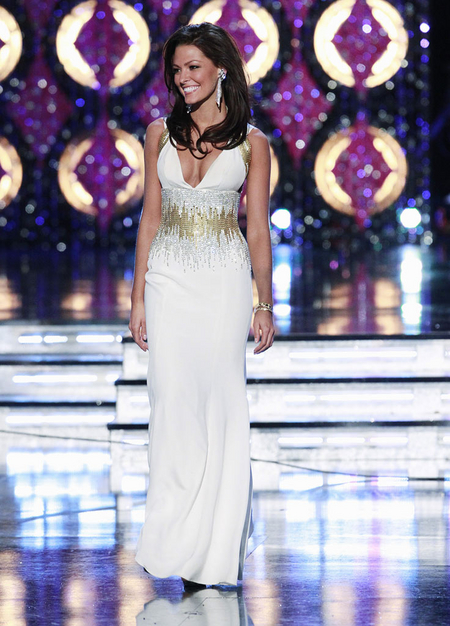 Video Clip of Miss Hawaii in designer Gionni Straccia:
Note- Gionni Straccia was also the designer for Estefania Fernandez's red dress which helped her capture the Miss Universe title for Venezuela.
The other two ladies were evening gown standouts both in their presentation and the design of their outfits.  I really did not see too many other gowns that I wholeheartedly admired with out any reservations.
Miss Kentucky Djuan Keila:
This dress reminds me a bit of Beyonce! If I had styled her I perhaps would have gave her a softer updo or even gave her a wispy 70s Charlie's Angels type of hairstyle. I also would have opted for diamond earrings to give more of a contrast to the gown. Still, it was a lovely dress!
Miss Delaware Kayla Martell:
The hair, makeup, and earrings were all perfect! The blue was the perfect foil for her blonde hair. This was definitely one of the top gowns. It may have been a bit too showy for Miss America. However if this had been Miss Universe or Miss USA I may would have bet on her making the semi-finalist or finalist cut on the dress alone.
A Second Glance At All the Contestants:

Behind the Scenes with Artistry Makeup:

Best Talent and Best Talent Outfit:
How sexy is this sequined jumpsuit?! And how amazing is her talent?!

Photo Credit: Ethan Miller/Getty Images
PAGEANT DRESS DESIGNER HIGHLIGHT:
Mr. Aquino designs couture evening wear. Some of his pieces are very lovely.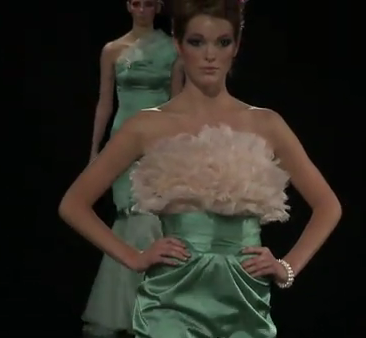 Check out the show: HERE!!!
About the fashion event (Couture Fashion Week November 2010) on video: "The event was covered by national and international press including RTL – Germany's largest TV network, China's NTDTV, Vogue India, and other major media from Pakistan, Italy, the Middle East, and South America among other areas. The audience included top socialites, VIPs, upscale fashion consumers and fashion buyers from upscale stores around the globe.
A number of other celebrities and performers took part in the evening's presentation including actress and singer Ashley C. Williams (star of the film "The Human Centipede") accompanied by Russian pianist Prince Igor; Italian pop and jazz singer Cecilia Herrera Frioni who flew in especially for the occasion; jazz singer Sarah Elizabeth Charles accompanied by pianist Jesse Elder and bassist Ian Baggette; championship ballroom dancers Ting Ting & Michael; and the New York-based Cecilia Marta Dance Company. Hair styling for the show was done by Desiree Burris of Chevogue, and the makeup was expertly done by Tomy Rivero and team using cosmetics provided by MD Minerals by Dr. Janine Hopkins, the Official Makeup Sponsor of Couture Fashion Week this season."
READER DISCUSSION:
1) The bigger question hitting the blogosphere is was Miss Arkansas robbed? What do you think?!
2) Who had the best evening gown?