Law School = Queen of the Nerds
So I am now back to the Law School grind… I decided to share my first day back to school outfit with you. I have a crazy love for black, grey, faded black. You get the idea. All shades of black. I paired a cardigan sweater with a white tank. It is law school. My jeans ride my hips and the tank keeps me from baring too much skin. Not that some people at my law school don't bare skin. I guess it boils down to a matter of preference.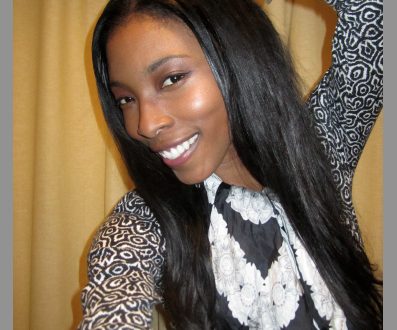 1. Sweater: Banana Republic, 2. Scarve: Nicole Miller, 3. Bracelet: Tiffany & Co., 4.Belt: Betsey Johnson, 5. Heels: Anne Klein, 6. Jeans: Kitson via HauteLook, 7. Tote with Laptop compartment: Swiss Mobility.
This outfit is chill and conservative enough to rock to law school. The scarf has an italian motif design that looks a bit like a print Versace would use.
These suede booted heels are awesome and have crocodile print embossed on the heels and the leather buckles on the front of the shoes. I also have a tote that is patent with croc embossed detailing that I sometimes rock with these shoes. I love the little details…
I never wear this bracelet anymore as it was more of a favorite piece in college but I thought it gave my outfit a cute girly touch…and it has been well over two years since I last wore it.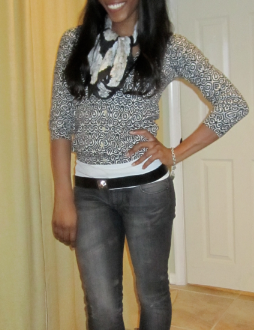 Also I decided to finally break down and join LOOKBOOK. Sometimes I try to be such a REBEL by not joining the crowd but here I am…a member of LOOKBOOK.  For those of you are not familiar, its a social network site that showcases individual fashion.  By Clicking the Hype on LOOKBOOK.nu label under my pic more people have a chance to see my outfit on the site.