My Zara Purchase at the Grove + Lunch at Marmalade Cafe

So it must seem by now that I lived at the Grove during my Holiday break, but I only went to a total of two times. I just never had the time to post material from my break since I had two big assignments for Law Review over the break which zapped up much of my free time.
This particular purchase is from my first trip. My boyfriend, and I met with some family friends at Mamalade Cafe. The food was deliscous and we all exchanged gifts. I received Godiva chocolate, a calendar, and a gift certificate for shopping at the grove.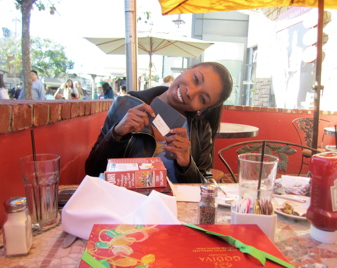 Marmalade Cafe makes great food and I ordered the cajun chicken dish which was just right. I have been to several restaurants where cajun chicken dishes are overly blackened or the seasoning used can only be explained as overkill!  In the summer I also had lunch at Marmalade Cafe; they have an awesome walnut salad with cranberries and fetta cheese!
Later after lunch, the boyfriend and I did some quick browsing. I love Zara overseas so of course I made a pit stop to see if there was a must have item.
Zara also has some very fashionable shaggy faux fur vests and sweaters! As a high schooler I went to the Melrose Trading Post to score awesome vintage finds and I have several real fur coats. I meant to grab them while I was in California but they are in storage so I did not have time. The Grove is a few blocks from my high school alma mater!
This is a perfect example of how to rock the Zara Shaggy faux fur items:
Emily K from Sweeden>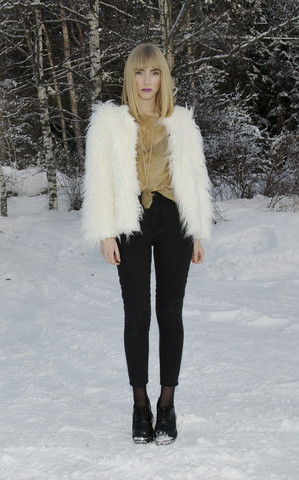 Well, I thought the winter sweaters were pretty key especially for pairing with black or grey skinny jeans. The elbow patch on the grey sweater nearly propelled me to purchase it. I am also jonesing after a few of their blazers that also have elbow patches. Either look great with equestrian style boots which are all the rage right now!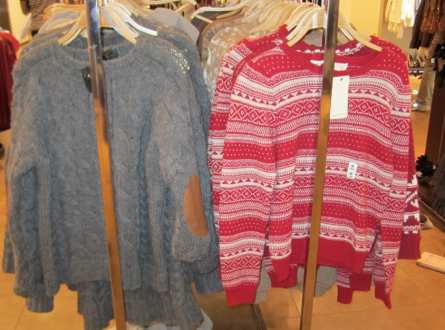 I ended up settling on an extremely cute cross body faux fur bag with a brass clasp. I usually tend to shy away from bags if they are not made of leather but the construction of this bag made it look like a much higher quality product. Plus the price was too ridiculous to pass up! I know the price tag on this bag is going to incite some friendly online jealousy. After two mark down stickers, I bought the bag for the orange price tag price of $19.99!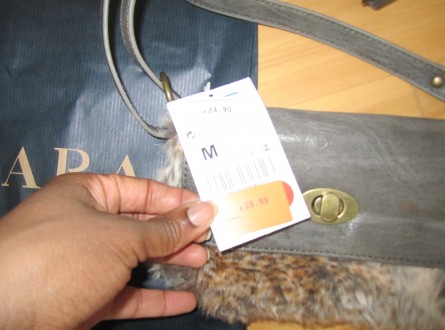 My Outfit:  True Religion Jeans, BCBG MaxAzria Leather Jacket, ACDC Band Shirt, Michael Kors Sandals, Faux Snake Skin Clutch. Blue denim colored head band from CVS.