Fashion Has Its Own Beat: The Sound of Wilshire Blvd.
The Sound of Wilshire Blvd.
This is the sound of Wilshire Blvd.
The choreography of the street.
Cars stop for a spontaneous fashion show.
And some even come to a halting screech.
The bus is late as usual.
Of course there is no discount.
I'll pay the same damn fare.
Fashion has its own beat.
I even made you stare.
Cars stop.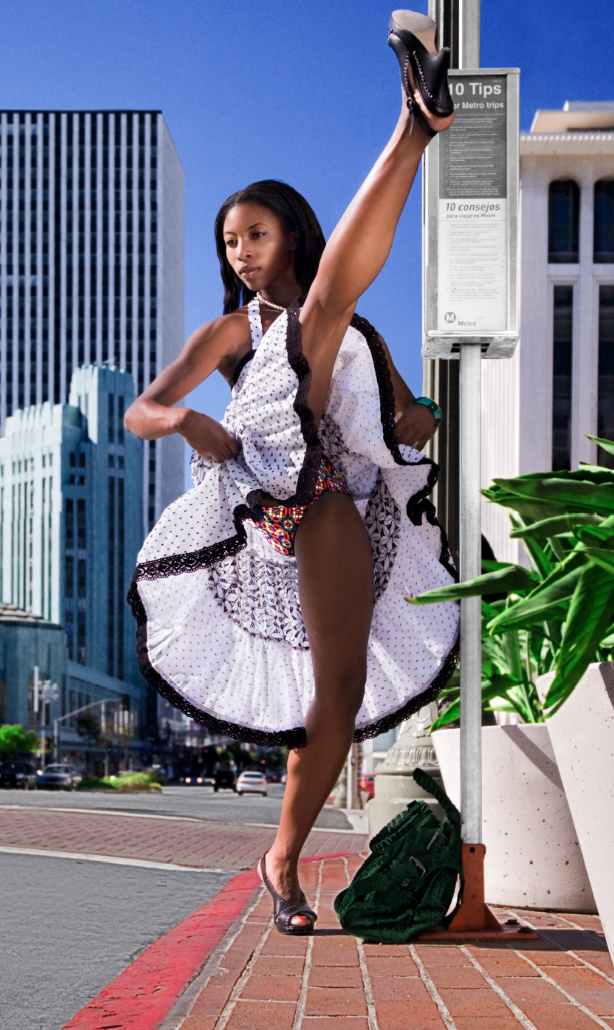 Wardrobe// Dress: Marciano GUESS, Shoes: Italian brand (I don't know, I left these shoes in California), Bag (Italian – Forgot Brand Name). Spankies: Vintage Inspired Bikini Bottom.
Backstory: So we did a series of pictures inspired by the street and my love for dance. I have danced my whole life and when I look at these images it makes me appreciate the elegance of dance and what it brought to my life and how it has shaped me as an individual. The expression is a bit stoic but this particular photographer (Sandy Bone) is really into capturing human emotion; these are the shoots that are most difficult. He even forbid me to smile. Anyone who knows me KNOWS this is a true challenge. I know many of you are wondering if  people really did stop and stare. Yes they did. It was quite a spectacle. Sandy is Russia,  has a beautiful accent, and loves talking loudly during shoots. He is probably six foot four and sports a long blonde pony tail. Yes he looks like Fabio but dresses like a hippie euro traveler. His wife is short and sweet and timid. You could see people rolling their windows down to listen… It was a blast.
Photographer Credit: Sandy Bone – Photographer, Sasha- His Wife  and the Lighting Assistant
Location: Hollywood, California…
I hope you enjoyed this shoot. Every time I look at these images I know that these are truly art. Sometimes I do not know what to think but I do know that these images me feel something very strongly. I hope I make sense. The first time I saw this picture I did not like it. I felt it did not make me look soft enough or feminine. However, later it grew on me because it showed my inner strength. I don't know. And then I started to think of how society imposes so many expectations and characteristics on women. In high school I resented my muscular body. I just did not understand how I could be so curvy in some places but so chiseled everywhere else.  I did not want to stand out in the ballet studio for my muscle tone. I just wanted to blend in. And then I got older and wiser. Wow. I could write a whole tangent on feminism but then that would make this post really long…