DC Fashion: First Annual Charity Fashion Swap(Tonight) + Singapore//AFF 2011: Tiffany & Co By Vera Wang – Backstage & Catwalk + Denim Unites for Peace (Today- Friday)
(see below for AFF 2011: Tiffany & Co By Vera Wang – Backstage & Catwalk Coverage and images)
DC FASHION EVENT:
Calling all DC thrift thrill seekers!!! The First Annual Charity FashionSwap Shop for A Cause is a great event. Email the organizers to donate clothes or come out on May 18th to score some fashionable finds while helping out charity!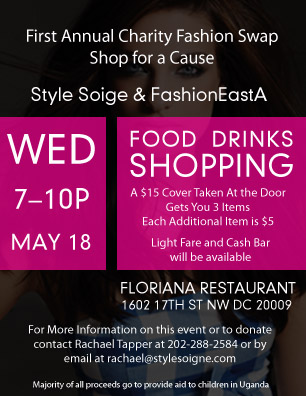 +
SINGAPORE FASHION SCENE//

AFF 2011: Tiffany & Co By Vera Wang – Backstage & Catwalk
The Vera Wang and Tiffany & Co collaboration runway  show was stunning from the scenery to the gorgeous lighting. The bench and light post shadow scene seems very Parisan and has a dreamy romanticism which I wish they would have utilized more heavily through out the whole show.
My Top Picks of The Show//
I love the shimmery luminescent quality of this material paired with the darker belt and jeweled waist broach. This dress was simple enough to not be overwhelmed by excesses of the flamboyantly jeweled bracelet, earrings, and tropical bird broach. I really liked this concept as I had never thought to use a broach in this manner. This style provides a good excuses to scour antique shops for something similarly ornate.

This dress is another of my favorite designs from the show. It could double as a modern wedding gown as many brides are choosing non traditional colors such as grey for a modern twist. This dress as a brides maid dress would be a decadent extravagance but there are many people who decide to go couture for brides maid dress selection. This dress makes me envious for my own grey cocktail dress with black accents The smaller pink broach was the perfect compliment for this dress. The sash definitely is great inspiration for a DIY project!
A girl can dream…
This lover in the park scene (pictured below) was the perfect theme for a display of jewelry from one of the world's most coveted companies. Notice the details like the park bench painted to match the exact shade of the tiffany's box! I think it helped to build upon the romanticism from the earlier darkly shaded scenery seen above.
This creamy almost peach dress really highlighted her hair color. I thought the jewelry selection was a nice pairing for this dress. I think mermaid dress tend to look better with simple jewelry. Chandelier earrings can also go well with these type of dresses but the necklace should not be too ornate.
This ring against the beige dress, coupled with pearl bracelets of varying designs is a nice touch:
Backstage/The Show Must Go On:
This ice blue set took my breath away. I would probably select this set if I had the choice and the money!
Photo Credit: Suhaimi Abdullah/Getty Images AsiaPac
+
DENIM UNITES FOR PEACE EVENT
Hey TFB Readers I am not sure if you are aware of the horrible toil on women in the Congo. Thousands are raped and continue to be raped daily in this conflict torn area. Join Haute Look and Falling Whistle to support this campaign. Denim will be sold well below retail price and 100% of proceeds go to the cause. Haute Look has many exclusive daily sales everyday for its members. Check out this event and other retail deals:

Be a Whistleblower for Peace from Falling Whistles on Vimeo.
TFB's Recommended Reading:
Who says you can't wear black during the spring?!