LisaH//Celebrity Style Files: Back to the Seventies
Just when you thought this trend was over and nobody would ever wear them again, there you go, celebrities wear them.The return of wide-leg trousers and high-waist flares is here.
Hesitant to play the part of the hippie?!

With a good combination of accessories, jewelry and shoes, 70s style denim can give you a sophisticated and classy look.
Surprised? Look how these celebrities wear denim while giving a nod to both modern and vintage sensibilities.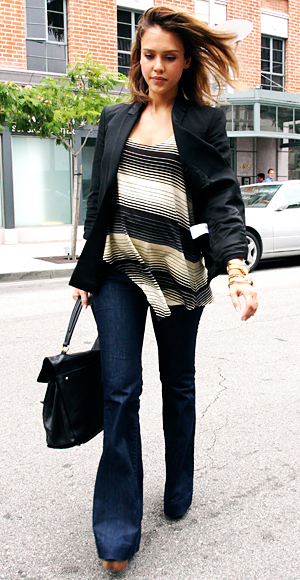 HOT MAMA: Even with a baby bump, Jessica Alba still looks fabulous in her jeans which she combined with a striped top, blazer and matching handbag.
My favorite outfit of the bunch: . Elle MacPherson looks stunning in her Stella McCartney jeans she probably still had hanging in her closet. Adding a statement belt is a great idea. Notice how her belt perfectly matches her watch, handbag, sunglasses and shoes. Browns mixed with golds can solidify your iconic "Golden Girl" look for day or night.
We see Claudia Schiffer a lot of vintage styled jeans—and they look good on her. Even this black and white blouse combined with a brown handbag looks classy with her MiH jeans. The braided brown belt is also a nice touch,
Crazy for Claudia: Here Claudia is pictured again in MiH. Even this off duty outfit looks sassy but comfortable.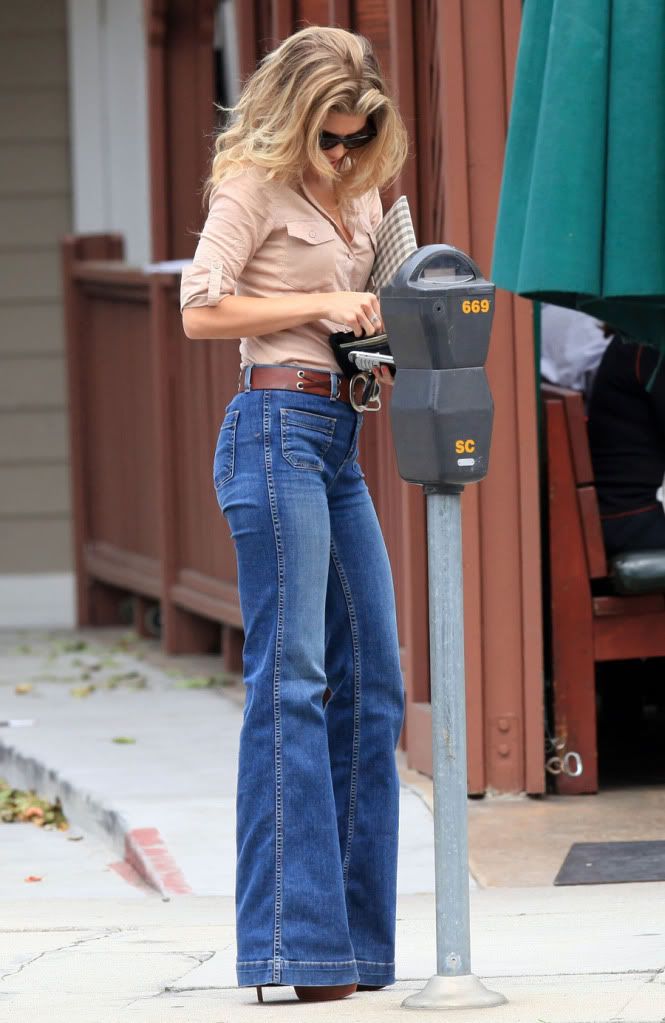 AnnaLynne McCord aims to elongate her figure with lengthy pants and sky high heels. Her J brand cover her feet, allowing only a glimpse of her heels to peek from underneath. The Look:  soft pink blouse, a remarkable belt +matching Louboutins
Alessandra Ambrosio looks like she woke up, put her jeans on, grabbed a white T-shirt,  and took her Celine bag along for a quick shopping trick. I love the jeans and the casual sandals with the hemp accent! Her cat eye sun glasses complete her look!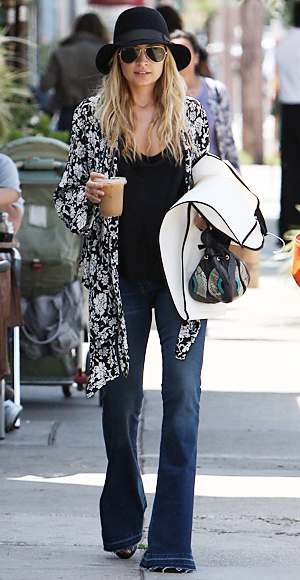 Insanely Stylish: If there is one celebrity who would definitely follow this trend, it would be Nicole Richie. It's totally her style,. She loves lose fitting trousers, dresses and long skirts.  Nicole adds a little flower power with a printed top for a little bohemian style.  Go Nicole!
Also: Yahoo Just posted a story on what guys think about your choice of jeans. It is a rather clever article. Check it out of you are interested! Guys Give Their Opinion: What Your Jeans Say About You…
Meet TFB's Newest Contributing Author: Lisa H.

Lisa is a 17-year old student from Belgium with her own fashion news website –Today Trends-. With an addiction to fashion magazines which she never throws away she loves it to spot trends and  you can expect more posts from her on all the latest  remarkable fashion items and any news that catches her eye.
Photo Credit: Top Featured Images: Fashionfame.com, Latina.com, REX Features/Jonathan Hordle