Cluj-Napoca, Romania // Person of Interest: Loredana Novotni…Emerging Designer
Meet one of Romania's emerging fashion designers. She's got a flair for the unusual and manages to create her clothes based on compelling themes and historical research. Loredana Novotni is versatile and is definitely a person of interest. Rather it is her moody SAC

RED

collection or her youthful 'Sailor Lolita' collection, Loredana manages to strike the right note. Why we

HEART

Loredana: She really knows how to experiment and is not afraid to take a risk. Her risks pay off because her collections are gorgeous, sometimes hauntingly beautiful, and always well executed. The Fashion Brewery presents one of Romania's new stars… Get to know

Loredana Novotn

i

:
Lordena Novotni fuses art with fashion with her new SACRED collection.
Photo Credit: Vintu Bogdan
Tell us a little about yourself: 
My name is Loredana Novotni. I´m 24 years old. I am a new fashion designer, I recently graduated MA Fashion Design at University of Arts and Design from Cluj-Napoca , Romania.
We know you recently completed your first conceptual collection. What is the inspiration behind your design?
My  degree  conceptual collection SACRED was inspired by pre/Columbian art, sacrifice and blood. My degree collection was displayed at the UAD GRADUATES EXHIBITION 2011 at Expo Transilvania, Cluj-Napoca. In fact the mood of the collection is captured in an online video which I have provide for your readers.
 What does fashion mean to you?
Fashion is not just a job for me,  has gradually become a way of life.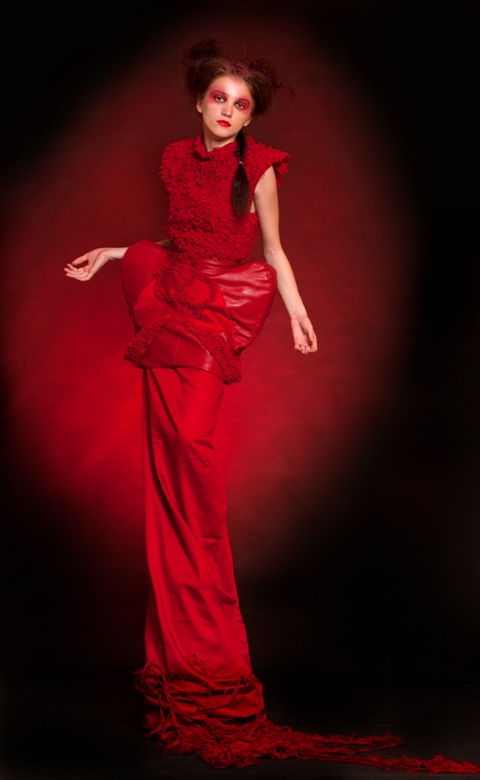 Tell us more about your brand:
My brand is defined by unique handmade clothing or limited series. I'm not especially distinguished from others, but I think my work is. I consider myself lucky because my job is my great passion. I hope your readers like my collection.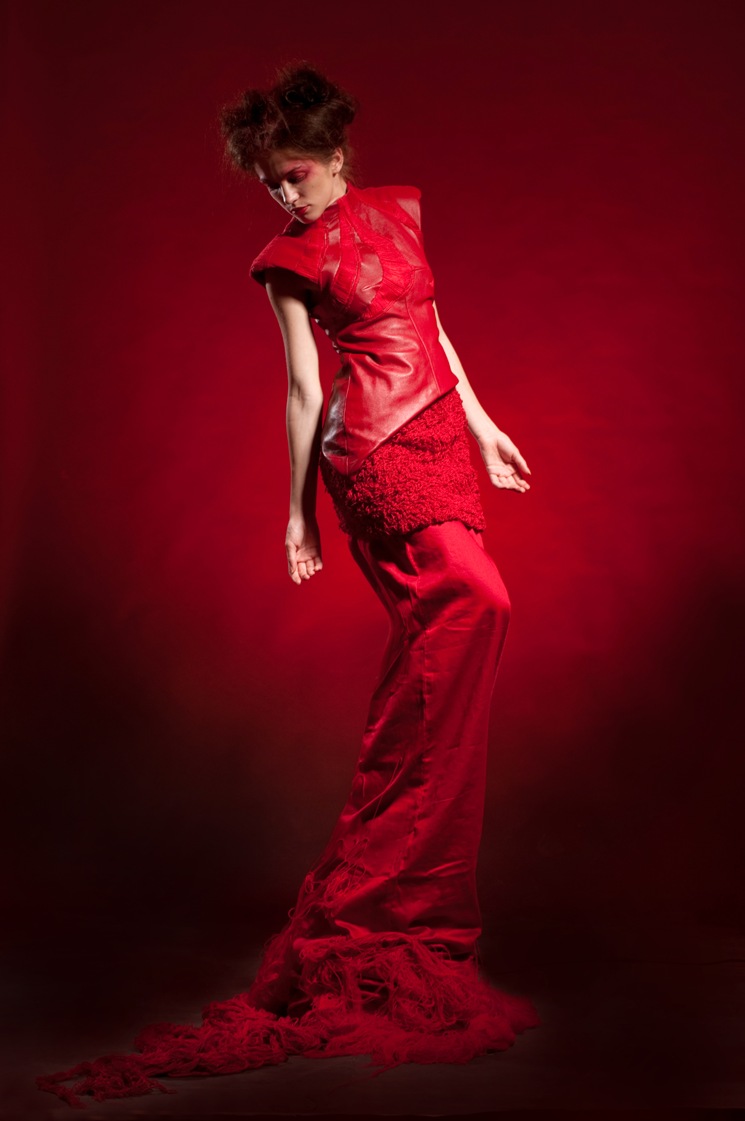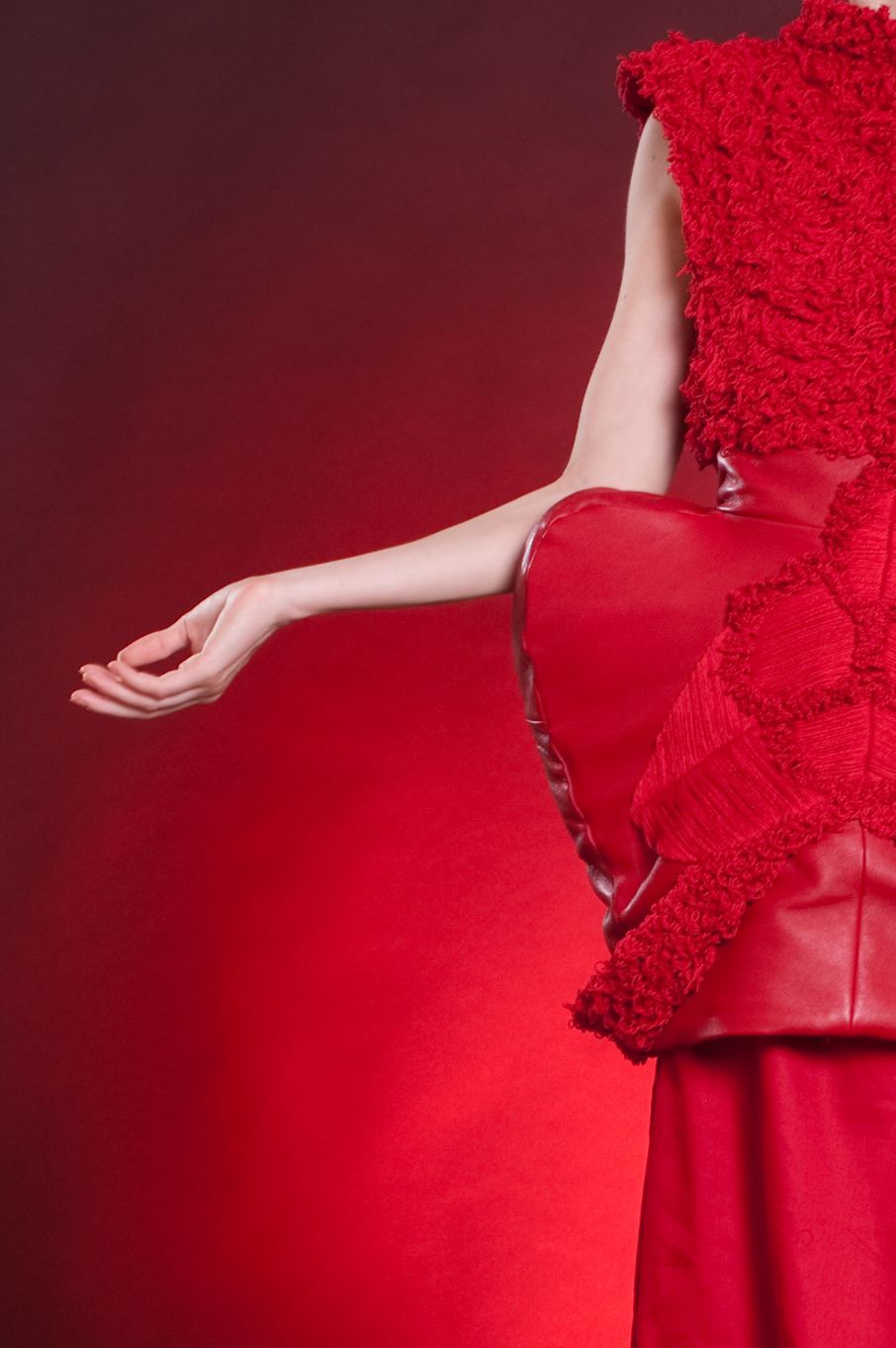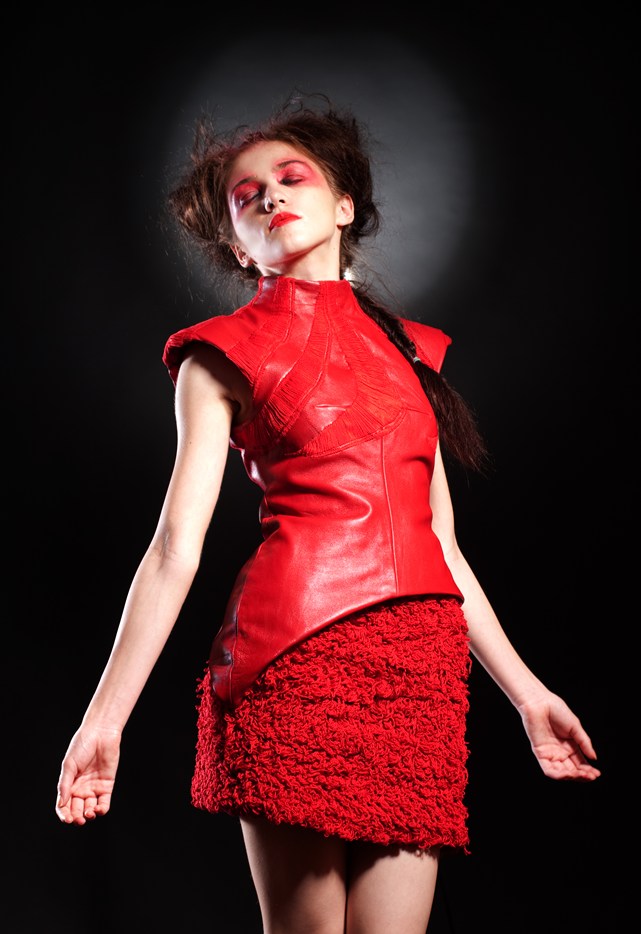 This collection is Passionate and Unapologetically bold. Loving SAC
RED

…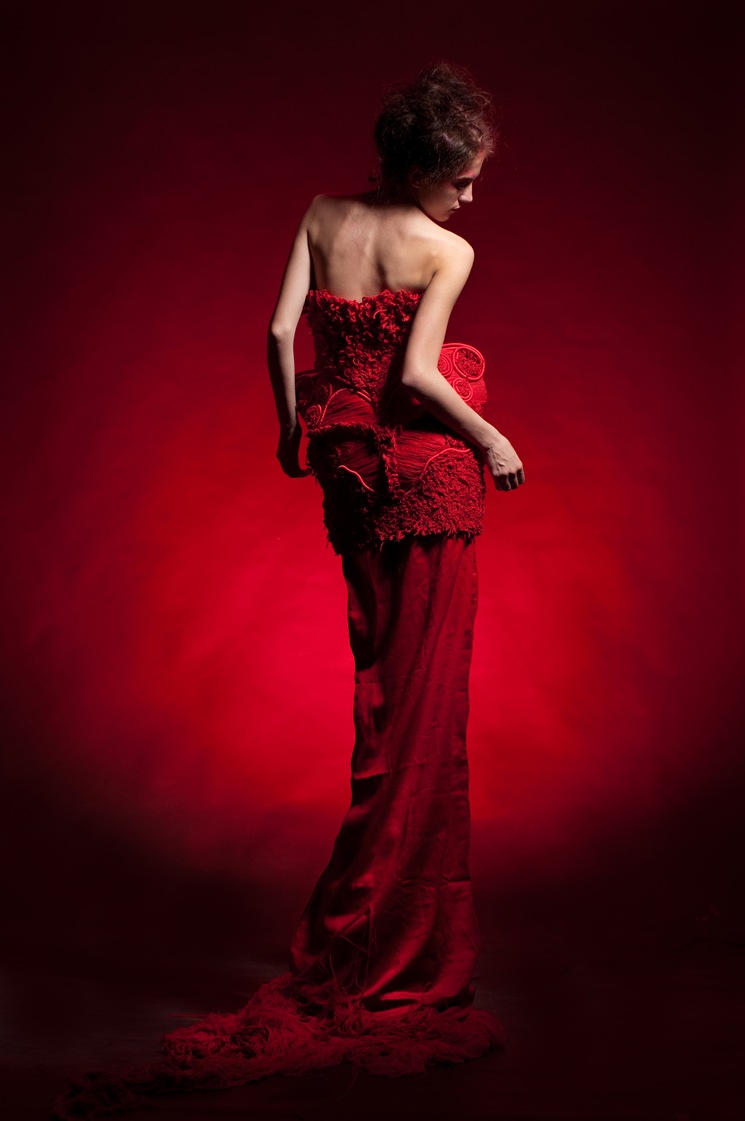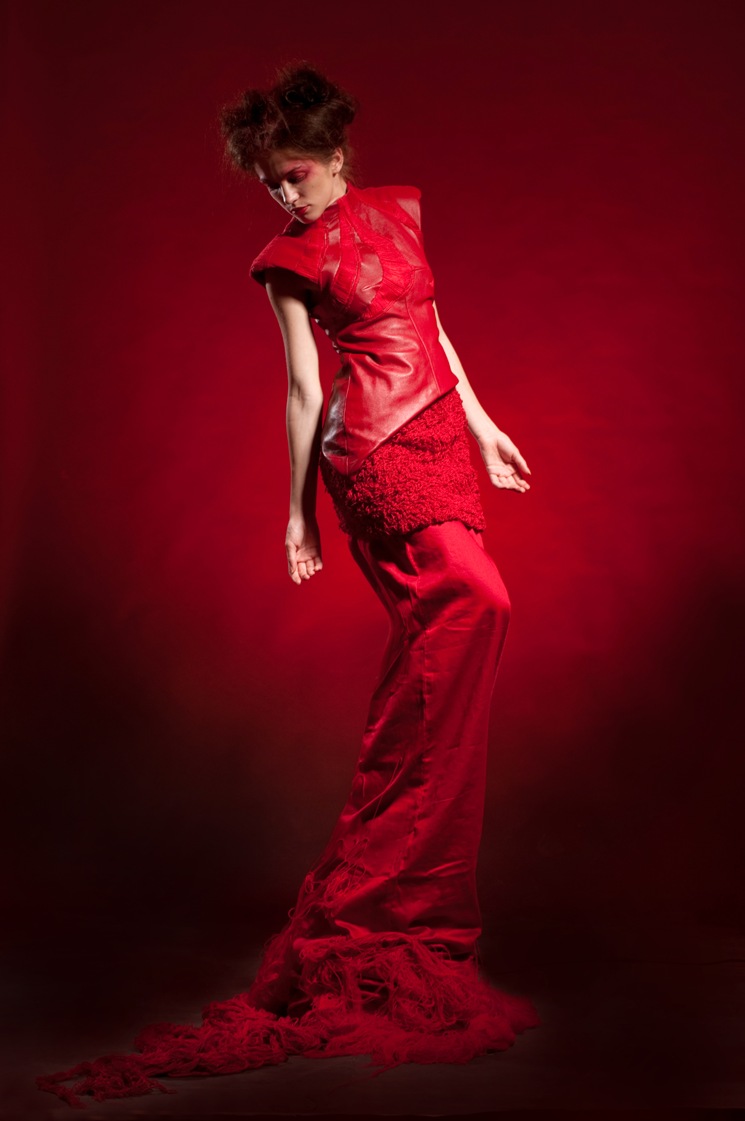 Concept of SAC
RED

collection in the words of Loredan Novotoni// The musings of an emerging artist:

The essence of my My degree collection- SacRED comes from pre-Columbian art but the technical concept is in tune with contemporary art (assemblies, design and execution illustrates merging popular traditions and avant-garde renewals). " The Primitive" is identified largely with the complex of myths and pre-Columbian art ornaments. My mini-collection is handmaded by myself. I used natural materials : leather, cotton and silk. Materials processing was entirely manual.The decor is arranged to emphasize the tailoring guidelines and with it most of the human body lines. By crocheting, I obtained an area with a loop texture. Decorated fields are located both in the upper and the lower part of product. Abstract ornaments result from styling by a reduction of the original meaning of surrounding realistic elements.

The fact that most ancient magic and religious symbols are found in present ornamentation worn by most peoples, prompted me to create reminiscent forms of abstract plastic of Neolithic civilizations.

From knowledge of the ancient art as the encounter with contemporary art which turns out to folk, primitive, archaic and for spiritual, has resulted in products marked by spirituality, unity and modern and archaic dualism.

My works are oriented towards primitive origins of human beings and fall into an artistic tradition with archaic origin, whose main function is to express the sacred presence. High and filiform figures refer to the idea of space and raising. I shaped the silhouette with the temptation to complete all by a continuous but limited line in space, chasing figures, focusing them on vertical, establishing an analogy between the carnal and the spiritual world.

My works evoke relationship from sky-earth, matter-spirit, body and soul. Red colour has a fundamental role in my work because it is the colour of fire and blood, love and life, hope and sacrifice. Historically, passionate red, sun and blood always symbolized primary principles. Blood has a deeper significance as it an element of communication between generations, individuals, species–it is a kind of chemical element with infinite meanings, which defeats time. Blood is the symbol of terrestrial life. It expresses the seriousness of an inner situation. It's a fleshy, earthly color, being a way to emotional exploration. It is believed that the soul of humans and animal power is in their blood. From this belief derived all bloody sacrificial rites, when supreme gods or those who patronized life and plant growth they where killed humans or animals. So, blood becomes a symbol of immortality.

This return to origins led to the retrieval of the sacred essence of natural things, which enables man to approach the absolute.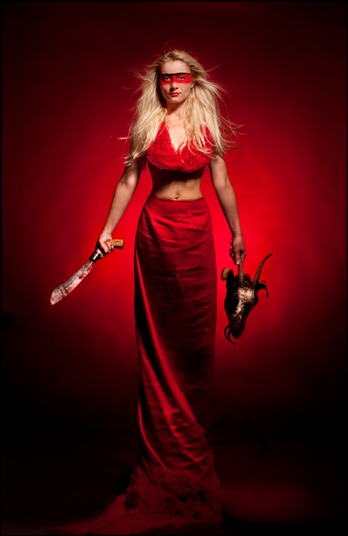 'Sailor Lolita': Sexy on the High Seas

For those of you who may want to explore one of her lighter collections. Loredana Novotni's Sailor Lolita collection is the perfect choice. It is fun, youthful, sexy, and charming to say the least. I LOVE this line because it is whimsical but also sleek and modern. Many of the items are ready to wear and I wish they were available in a US retailer. Loredana Novotni is a shinning star who will only grow brighter as her body of work increases.

Take a peek at some of the lookbook photos from 'Sailor Lolita.'
Designer: Loredana Novotni
Model:    Amalia Oseanca
Hair&Make-up: Amalia Oseanca
Recently this same line was shot at International ErKE photo camp in Tribunj, Croatia. Check out two behind the scene photos and one of the finished shots from the shoot. Stay tuned for another Loredana Novotni feature…