Fashion Law Week: A Preview of the Intelligent Design Show
I know I mentioned my involvement as the Co-Chair of Fashion Law Week. It has been a busy and very time consuming task (hence the sometimes spotty posting in the month of February) but it was well worth it! Our style panel was mentioned in the Washington Post and we also received a shout out feature from Refinery 29.
The show started with  a pre-show installation of Project Runway Alum Korto Momolu's Sankofa line. Each piece has a different meaning and the line is a symbol of the struggles from Libera's civil war.
Eight other designers were showcased during the INTELLIGENT DESIGN show.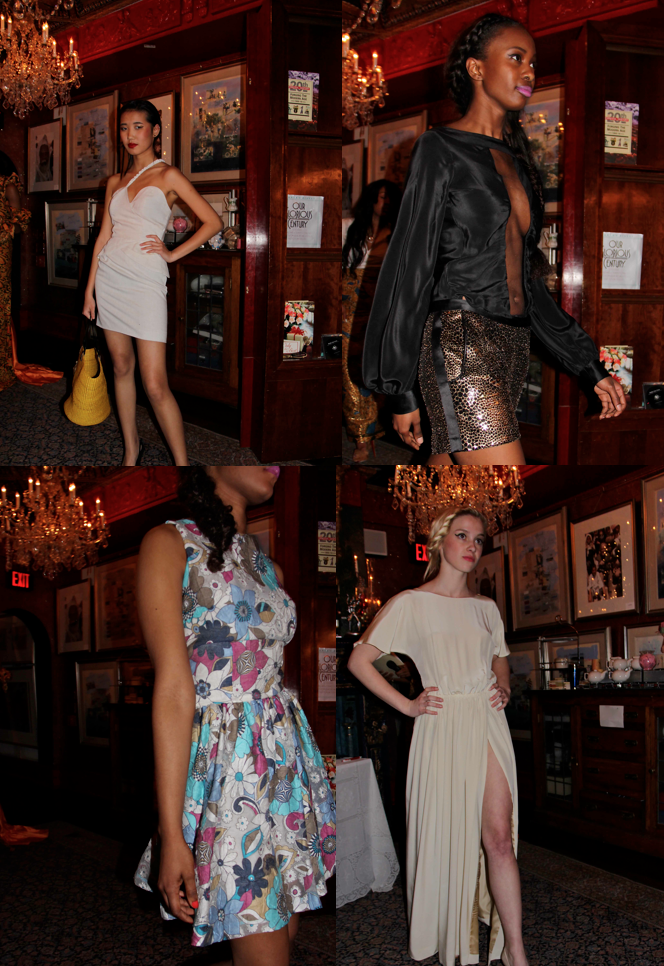 Check out the slide show below for some a preview of some of the pieces. I will definitely post more when I get photos from photographers who covered the event. The crowd was insanely stylish and my best friend flew up from New York to enjoy the scene.  The culmination of FASHION LAW WEEK was amazing and I am so glad everything turned out so well!!!
Show Details:

Sankofa Line by Korto Momolu, Photo Credit: Stephanie Matthews

–
Korto Momolu & the Sankofa Line:
One of Korto's proudest moments occurred in May 2011.  She was finally able to return to her homeland after 23 years to help launch Amani Liberia, a non-profit organization that teaches Liberian women how to create, market and manage businesses through textiles and sewing.   Korto designed and donated a masterful 27-piece collection,  entitled "Sankofa", which told the story of Separation, Transformation and Celebration of the women of Liberia.  Highlighted as the "fashion designer to watch" by the New York magazine, Korto has been featured by major international and national media outlets, including CNN International, The Discovery Channel, Tom Joyner Morning Show, People Magazine, Liberia Travel and Life Magazine, Soap Opera Digest, Women's Wear Daily, Sprit magazine, The Mo'Nique Show,  The Wendy Williams Show, Essence, and many more.
Korto Mormolu, a native of Liberia, West Africa, came in second place on Project  Runway and is on her way to becoming one of fashion's hottest new designers. The Ar- kansas resident debuted the Korto Momolu Collection, a contempo- rary female apparel and accessories line, during New York City Fashion Week in 2010.  Korto Mormolu designs  for everyday women of all shapes and sizes, not just for thin fashion models. She boasts  "my clothes are for real women, curvy women who want great pieces they can't always find. They can wear them and excel in them."
The Sankofa Collection:
Sankofa "looking back, but moving forward"  is s collection originally  hand designed by Korto Momolu, upon commission from Amani Liberia Foundation for its debut in Liberia May 2011. Amani has designed a program to teach marginalized women in Liberia skills to help them overcome their current financial situations. The collection was done in 3 parts to tell the story of the Liberian Women who will benefit from Amani's program…separation, transformation and celebration. The total number of pieces (27) represented the amount of years the country has been in turmoil.  Korto Momolu, Featured Designer (Installation/ Pre- show)
–
Studio d'Maxsi
STUDIO D'MAXSI is a design house owned by Afua Sam. Celebrated as an innovative, sophisticated and edgy women's wear line for the modern woman, STUDIO D'MAXSI's unique  designs  are for the sexy, classy, funky, chic and confident woman. STUDIO D'MAXSI specializes in: Red carpet looks, party dresses,  casual chic (men & women), wedding  dresses, prom dresses,  suits (men & women) and accessories-for all events. STUDIO D'MAXSI has been featured in various fashion shows including: Maryland Fashion Week, DC Fashion Week and Crystal Couture; charitable fashion events like Steps  to the Cure,  Fashion Fusion,  Fashion  for World  Peace, Pink  Jams, etc.
–
Elizabeth St. John Collection
Like many designers, Elizabeth began designing as a child.  The daughter of a master tailor, and fourth generation designer, for as long as she can remember, she spent countless hours in her family's workshop; growing up observing samples, studying gowns & learning techniques.
Elizabeth decided to pursue her other passions, science and nature, in college.  She graduated from the University of Maryland with a degree in Environmental Studies and Cultural Anthropology.  After graduation she began a decade of working for eco-focused and conservation projects that allowed her to visit some of the most remote places on Earth.
In February 2010, Elizabeth  launched the Elizabeth St John label with her first bridal collection at the French Embassy Couture show for DC Fashion week.  She has subsequently added destination bridal, cocktail, and most recently, children's wear to the collection.  She will introduce her new eveningwear collection  for Spring 2012.
Elizabeth is also very active with social and conservation charities and serves as the President for the Universal Strategic Services Foundation in Washington, DC.   In the Spring of 2011 she introduced the ElementBags.com collection to help support her many charitable interests.  The collection includes specialty bags that provide direct funding to select charities with proceeds from the sales of every bag.
–

Gwen Beloti Collection
The Gwen Beloti Collection is built on the theory  that  today's woman aspires  to be classic but trendy,  edgy yet tasteful, and distinctive while still collective. Gwen, an emerging women's wear fashion designer born, raised and based in NY, has produced a line that features a selection  of boldly, subtle,  innovative statements for its consumers and the fashionable elite. This line dresses women for an array of occasions and events. It is for the woman looking for wearable novelty in her wardrobe, daywear or red carpet attire. The Gwen Beloti Collection is dedicated to designing timeless garments for the fashionista who appreciates quality  and style. Every item is designed with these attributes in mind. One of Gwen's favorite quotes is, "Fashion many times is misunderstood, but quality  is always appreciated."
–
StellaBonds
StellaBonds skillfully unifies old world craftsmanship and elegance with new world style and sensibilities. Inspired by the styles of her hometown  in Bogota, Columbia, the country of Spain  and the lines and curves of the body, this line offers simple but well-sewn  pieces with details  that  make the wearer look casual and sexy but not tacky.
–
DIVA DELICIOUS
Diva Delicious is a fashion brand that currently creates accessories with raw materials made in Ghana and a touch of glam. "Diva" because everything in the acces- sories line is top quality and loud (in a good way) and "Delicious" because it's colorful and artistic. The purses in the Diva Delicious collection  reflect a great combination of design,  dimension and color along with "street-smart" trendiness. These versatile  clutches are featured in richly dyed straw, raffia, bamboo or African  fabric and gets added dimension from intricate cross pattern detailing. These delightfully woven purses  add sophis- tication with a hint  of flash to any outfit.
–
Diamantina
Diamantina, is a Washington, DC- based leather handbag company devoted to sustainability. Diaman- tina was created from the partner- ship of two good friends, Luciana Gagliardi and Claudia Diamante, who share a passion for fashion and wanted to provide job opportunities to skilled men and women from their  home country,  Argentina.
The Diamantina products use the finest Argentine leather includ- ing full grain leather, embossed leather, patent leather, engraved leather and suede, to evoke luxury akin to the earth's elements. The leather is then complemented with detailed silver hardware, all hand-crafted by Argentinean artisans. The collection includes oversized handbags, hobos, and day and evening clutches. Diamantina delivers high quality leather handbags and accessories, which appeal to modern, stylish women.
–
Tashia Senn
Following her graduation from FIT, Tashia was eager to return home to DC and in October 2009, she launched her first collection  of high end women's evening wear, TASHIA SENN COLLECTIONS. The affection Tashia has for fash- ion as a young girl is reflected  in the timeless  pieces she creates that present each woman as beautiful and ageless. Her pieces exude romance, charm and creativity and have attracted the attention of fashion industry advocates,  bloggers and retailers. TASHIA SENN is a ready-to-wear collection but maintains a custom clothing feel. Tashia's most poignant inspira- tion comes from her world travels, the influence of natural elements and the diversity of cultures and customs  that  are expressed in her collections.
–
Simply L3ve
Simply L3ve is a women's clothing brand dedicated to providing the perfect mixture of fashion and affordability for the eco-conscious shopper.  Developed by Howard University Alum, Michelle Gibson, Simply L3ve is based on sustain- able practices and the principle of "cradle-to-cradle", which entails recycling manufactured products into new products rather than permanently disposing of them.  The collections created by Simply L3ve are inspired by the 50s, vintage with a feminine touch.
–
Kim Schalk
Kim Schalk is the creator of the whimsical line "God Help Miss Agnes." But she quietly retired her label after eight  years to launch
a new label simply called, Kim Schalk.  There is nothing simple about her new direction—edge is the new Kim Schalk.  Endearingly referenced as a "fierce designer" from the "fiercest" designer to grace Project  Runway, Schalk has channeled her title  into body-con silhouettes such as her signature wrap skirt  engineered for a universal fit.
–
Katherine Limon, Show Stylist
My Signature Look is the creation of Katherine Limon, a proudly self- proclaimed Fashionista. Katherine's love of fashion took root at a young age, where after  years of watching her sisters  model the latest  Jordache jeans or Izod polo shirts, she developed her own fashion dos and don'ts. Katherine's effortless ability to pull together a look, whether it be a classic ensemble or the latest fashion trend is a result of her attention to detail and cultivation of her own unique style. Katherine has found fashion consulting the perfect medium for channeling her creativity and helping others develop their signature look. In 2011, Katherine expanded her talents to include owner of CARBON, a sustainable chic eco-boutique in Washington, DC.