UK// Fashionable Films with Ella: Underworld Awakening + Kate's looks
Underworld is a hugely popular movie franchise starring the stunning Kate Beckinsale who plays Selene.
During its big box office weekend it made a smashing $25,306,725.
IMDB (Internet Movie Data Base) summarises the plot as "When human forces discover the existence of the Vampire and Lycan clans, a war to eradicate both species commences. The vampire warrior vampire Selene leads the battle against humankind." This sums up Awakening in quite a vague nutshell without giving away too many of the details. The film incorporates the techniques of its predecessors with a strange combination of sporadic action and suspense inducing story telling that make it so enjoyable. Apart from the action sequences in which Kate Beckinsale kicks ass the Underworld movies are surprisingly not the most fast paced of films.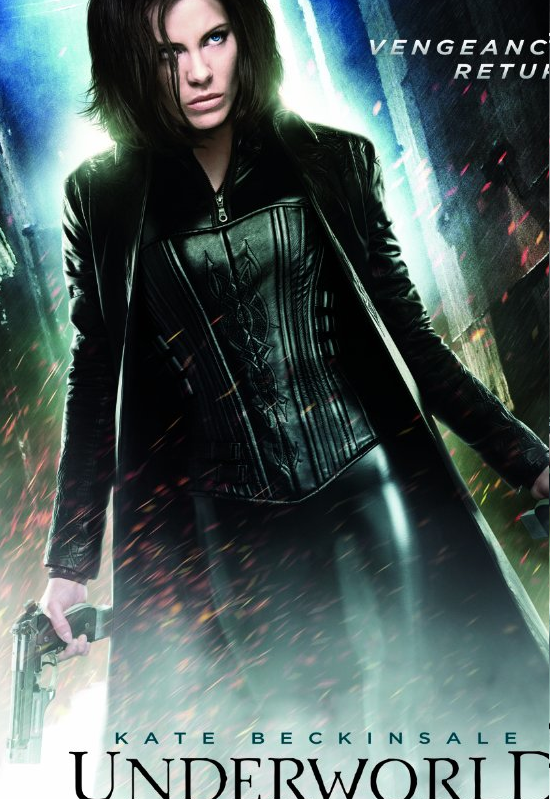 Awakening has a lot more going for it though in my personal opinion. Without giving the whole plot away the focus shifts. Selene, through no want of her own, is gifted with new motivation. She has to become less hardcore and more caring. "My heart is not cold. It's broken," She says at one point. Selene has always been a very tough character who is strong to the point of marble which is part of her appeal as an immortal. In Awakening she has to learn to overcome this obstacle to save her future and those around her. On the downside these conventions means that it does start to feel a lot like it's copying from the Resident Evil franchise.
It's definitely worth a watch though if you're a fan of the Underworld series or indeed just a fan of Kate Beckinsale! There's a little something to please everyone.
The Silver Screen// Scoring the Underworld Look:
 A sleek leather trench coat is also a nice item to add to your laundry list. Black turtle neck tops can be worn with a black leather corset of any fabric material. Leather leggings or trousers will make any outfit a bit more dangerous. A leather vest is also  good for creating this type of effect. Get sultry and add a gothic touch to your wardrobe. Black is in for all seasons–especially at night.
Belstaff Jacket
Alexander McQueen
Jimmy Choo
Pamela Love Necklace
Black Falcon Vest Cape
via modelistas.com
classicbikerleather.com
heatherleatherfashion.com
Off Film// Kate's Looks Around Town:
For the Underworld Awakening photocall Kate wore this lovely item that would have any vampire drooling.

This outfit is a huge contrast to her Underworld look. Light and breezy Kate mixes silk with torn denim shorts and Chanel shoes.

At the Lacoste Spotlight Award in a dress that would make any pretty princess melt.

As you can see Kate favours long curly hair and the smokey eyes look so perfect this look for your perfect Kate impression. Or good good girl gone bad by scoring her shoulder length bob and heavily lined eyes seen in the film Underworld.
Don't forget to search her out on Facebook and Twitter for live updates.
xox Ella
London Editor