UK, Ella// Lookbook: Fairy Charm and Tartan in Boscastle (More photos from Ella's Holiday)
Not too long ago we drove to Boscastle after stopping at Bossine for a spot of lunch with a sea view.

Here nautical is again evident but as I know Boscastle is known for its spirituality I chose to be away with the fairies. Boscastle is a bit like a mini Glastonbury. Despite suffering from the floods it has rebuilt itself and is still a strong tourist destination and a good place to go cliff walking which is what we did there.
I visited Boscastle Pottery, Massey's Gifts and a shop called Things. Boscastle Pottery is a very large pottery shop. Most pottery shops I've seen have been quite small little galleries of sorts but this was huge and had a section for rocks and crystals and jewellery. It is always great to support local businesses. They had many items that could function or decorate in the home. Massey's Gifts was an extensive spirituality shop and again had many items that could adorn your home. A statue or crystal formation makes a great addition to any mantle or cabinet. : )

Here I'm rocking a Tinkerbell tee from Topshop. It is a favourite of mine that I bought a few years back and I like the contrast of black on white which I emphasised with the black H&M shorts. I gave the look a rockier edge with the Dr Martins and a tartan Tinkerbell bag that I purchased from the Disney Store when I went to New York. This spring is the perfect time to rock a pair of Dr Martins or lightly colored lace up boots!
Add some fairy charm to your day!
xxx
Ella
London Editor
Looking for some ideas to create your Grunge Chic look,
check out some amazing ideas from around the web (casual or dressy):
Marc Jacobs ad from the 90s
Winona Ryder (90s) via pashionista.org.uk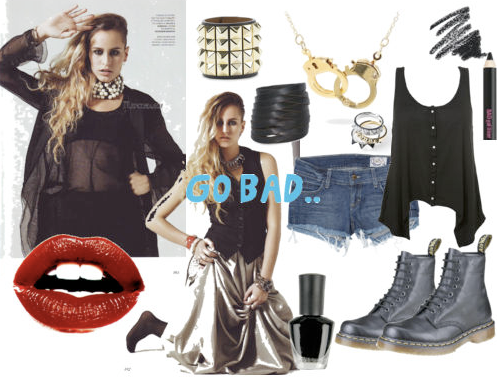 teendiariesonline.com
uberchicblog.blogspot.com
wheregrungemeetscute.tumblr.com
Dr. Martens Flower Burst Boots
Dr. Martens via styleblog.ca (read her post on the launch of the Canada store two years ago)