UK, Ella// Lookbook: Nautical Knots and Patchwork Patterns – Trip to Cornwall
Ahoy!
Bringing you a holiday lookbook from Cornwall.
//Holiday Essentials
I just HAD to take my laptop with me. I purchased one of the Marc Jacobs laptop bags that I blogged about last year so my laptop can be safe during travels. It features a very cute Miss Marc! I also bring my Nintendo DS Lite for those long car journeys. The Bestey Johnson toiletry bag holds all the essentials!

Building on the nautical feel I thought I'd showcase a few favourites from my wardrobe.

In the distance you can see the destination that we are walking to. During this trip we cliff walked the coastal path from Polzeath beach to what the locals call the rumps. It's about 8 miles or so but Brad and I ended up walking a bit further out and had to double back making it 10 miles. Oops!
I was very proud of my achievement. Another feat of death defying heights to conquer as you can see from these photos of the cliff edges!

//What I wore

Keeping in with the seasons looks I chose items with a nautical edge. This vest top is one I bought from a shop called Goa Magic in Glastonbury last summer. I loved the way that top used knots and ties as its key feature with the deep sea vibrant sea blue. It's very stretchy and comfortable despite its appearance.
The skirt is a favourite for interviews and office wear which I bought last year from Joe Browns winter sale. I loved the way that the skirt flowed with different patchwork prints. The cotton is very light and there is a pocket on the side. This makes it perfectly light for hot summer days.

The bracelet is Betsey Johnson and was bought by my friend Jenny for my birthday back in January. The pretty blue hearts and bows are so cute and it also has a very eastern feel with the long chains.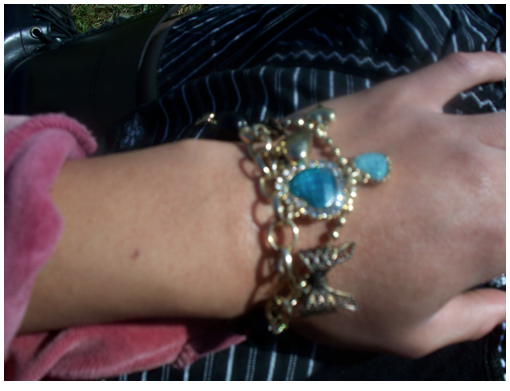 Being by the sea side for the first time in years has been a very refreshing experience. It has left me feeling totally refreshed and energetic – ready for what the year ahead may bring!
Xxx
Ella,
London Editor.
Have you entered TFB's contest to win a $150 statement necklace by Amrita Singh?! If not please head over to the contest page and Enter to Win!