UK, Ella// Diamond Jubilee (2nd-5th of June) Fashion Jewels with our London Editor!
The fashion buzz is that
Jubilee

and

Olympic

(27th July – 12th August) fashion are fighting for the place of honour in your wardrobe. Perhaps it's their close proximity and their base in British pride and sense of nationality that is setting this unlikely fashion couple on edge. It seems to be that fashion blogs and magazines are shouting out for the British Fashionista or the Fashionista that loves British fashion to pick sides and choose one style to rock their wardrobe. I don't see that this needs to be the case. Whilst they are close together there is no reason why a fashionista can't rock royal frills in June and sporty stripes in July or better yet play it safe and rock the

Union

Jack

flag all summer.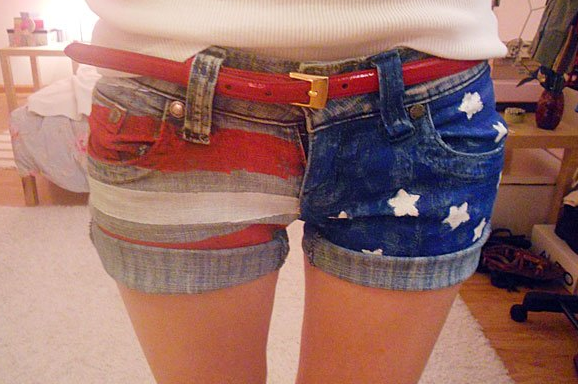 via fashionistimus.zappingnews.net

via tales-in-shane-forest.blogspot.com
vie Essence.ccom
via stylebakery.com
With so many great British events to hit the Media this year it's not in the least bit surprising that these events would cause people to compare and contrast styles. In Britain there is still sometimes a strong need to wear what is appropriate or best fitting for the event. I can see that people wouldn't necessarily wear Jubilee Fashion to the Olympics or vice versa but there is no reason why both cannot be honoured individually.
When I think fashionably of the Queen and the Olympics they are two very different realms. When I think about the Queen I think about presence and classic style and of course the statement hats.
via snappystyle.com
via naplesnews.com
When I think about the Olympics I think about sports designers like Stella, racing stripes, and how very hard it is to power through your daily work outs whilst still managing to come out of your session with your hair and make-up perfect.
These images are quite different and yet they do hold something in common. The Queen represents stability and timelessness whilst embodying national pride. A lot of Britain's think the same about the Olympics. The Olympics is iconic no matter what your view on sports because it brings countries together under one roof with one aim – to bring home the gold for yourself and country.
Think about that and it doesn't seem so wrong to allow both these events to influence your wardrobe. I doubt the fashion police would pull you in for it. It would be nice to hear your views below if you have the time. Do you have a fashion favourite or will you refuse to pick sides?
Here are some statement fashion pieces for the long weekend//
Aquire a statement hat. Hats aren't always to everyone's liking. They were once a fashion must in society and now most people shy away from them. This hat from Jackques Vert looks perfect for those summer evening parties. Atfor £99.


This pretty blue and white daisy dress £30.00 from Next is great for that fancy party or summer casual airy look.
These dancing shoes from Radley will keep you turning without wearing out your feet. You don't want to miss that dance! With bow and gem detail to make you feel like a royal. Down to £59.00 at Debenhams also in Tan.

Perfect your look with a bright blazer. Whilst the Queen would normally be seen in pastels such as Lilac with current colour trends a bold colour is a great idea.

River Island £35.00
From Vivienne Westwood's Jubilee Collection//

A sneak peak of a new capsule collection from the all mighty Vivienne Westwood. This is my favourite dress from the collection. It's speaks of subtle elegance whilst having a hint of the fay around it with it's etheral light as smoke layers and figure hugging belt.
I will be attending a Jubilee Fashion Show on Sunday the 3rd of June at the Living Room in Bristol. There will be many street parties and house parties across Britain that weekend so be sure to hit up the party vibe in your best outfits.

Vogue Magazine Cover for June featuring Kate Moss.
It's the perfect time to let the good times roll and celebrate in style!
Xxx
Ella
London Editor