UK, Ella// Lookbook: Vegetation Prints meets Water World (More from Ella's Holiday in Cornwall)
When on holiday it's best to be fashionably prepared for all eventualities!
We were all up and ready for our next walk at 10am today! We drove to Constantine Bay which is just outside Padstow about 45 miles from Rock. It was lovely to admire all the holiday homes as we drove past and the small towns and villages. You have to be careful on the windy country roads though!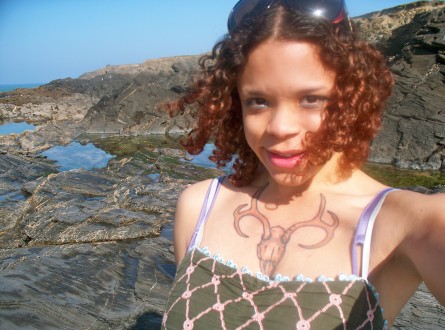 I'm wearing one of my all time favourite dresses today. Sundresses have a way of making you feel light like a fairy. It makes me want to twirl around in circles and make daisy chains – they speak gently of childhood innocence. It was bought in the same boutique as the green bats dress in the Dare To Be Different Lookbook but as you can see it's quite a different style! I love the blue lace around the top and the light green lace and bow at the chest which makes it flow nicely when puffed out by the cotton and net underskirt. Another bow adorns the back of the dress and it's got quite a low back too. The light green print at the bottom is leaves before it goes into orange diamonds.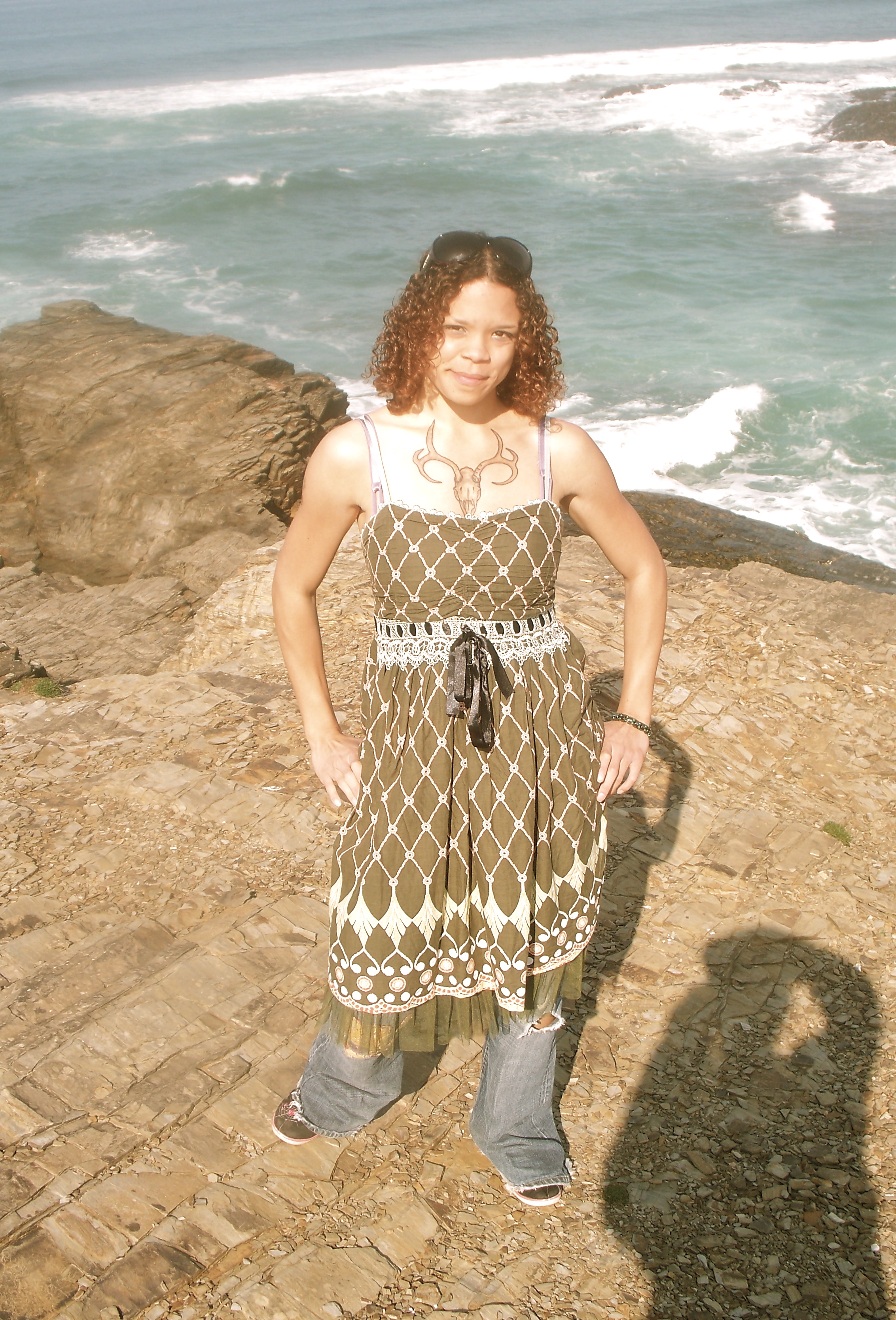 Vegetation prints are a key look for summer as seen in the UK Vogue magazine. The mix of materials is also on trend with big designers. As we know from Bristol Fashion Week clashing those prints or fashion stories is the way to go. I find this perfect for summer as I can show off another of my tattoos. This tattoo is of a blue hammerhead shark and it has a partner at the bottom of my back which swims up to meet it in a yin yang style and is lilac purple. I find there are very few clothes though that have a low back enough for me to be able to show it off so it only tends to see the light of day in summer!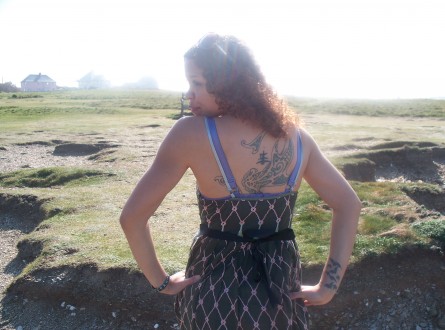 The shark tattoo and the location gave me the idea to mix the prints of vegetation with the water world story. The bracelet is a new one that I bought in Boscastle Pottery and is made out of hematite (the metallic crystal) and malachite (the little green) beads to restore balance to the body. Malachite is also good for absorbing negative electrical energy so is good to place near computers and electronic equipment. It's always good to cleanse crystals and bring back their colour vibrancy with sea water or running water as crystals can dull in colour overtime and cleansing them brings them back to life so to speak. Other techniques for this are burying them in earth or leaving them by a burning incense stick or under sun or moonlight on a windowsill.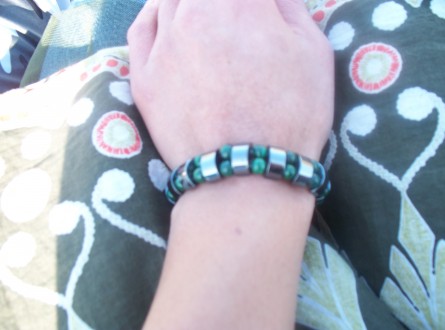 I climbed down these cliffs so I was glad that I decided to wear trousers underneath this dress and dress for all eventualities as despite the sun it was still a little breezy and I didn't want to go for a Marilyn Monroe effect! Whilst iconic it is certainly embarrassing when it does happen. That and it's much easier to climb and scale cliffs whilst in something relatively sensible even if it does make for a pretty photo backdrop! I do recommend if you ever go to Cornwall to get a good pair of trainers! I had a few different pairs of shoes and I was okay but trainers are a lot more comfortable than fashion shoes that is for sure. I did fear for my life a bit as I was in pumps but it was definitely a fun experience. Nothing beats a boost of fresh sea air!
xxx
Ella
London Editor
Viva La Hippie Grunge
Fashion Rewind: Rock a pair of Jeans under a free flowing dress, Show your bra for the 90s vibe, Try a slip dress once again, Wear a shirt under your dress, Buy a pair of used ripped jeans instead of the ready made ripped pair on your nearest shelf… Go against the grain.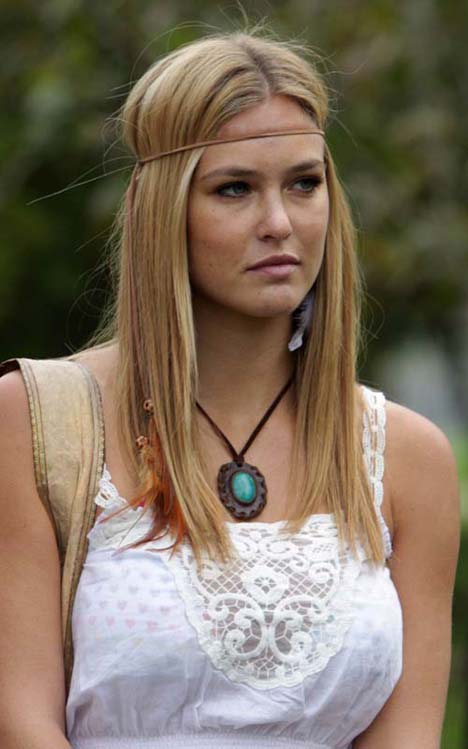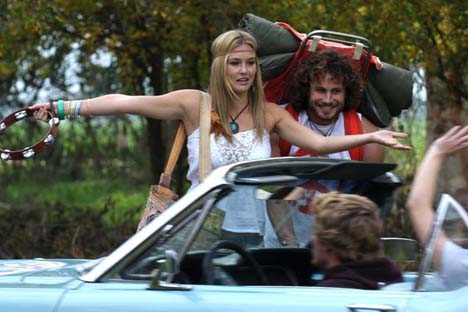 Bar Rafaeli – Noam Tur & Fox Fashion
90s Revival – Katy Perry
Available at Madewell for the 90s grunge slip dress look
Chloe Sevingy
Modernizing the look with out the retro vibe:
chiccastyle.blogspot.com
Old Editorial
 Jordin Sparks
thepleatedpoppy.com
pumpupthefrump.blogspot.com
styles2love.com