Hollywood: Makeup & Martinis Recap ft. Melissa Hibbert of PROliphic Beauty + Italy: Love Top Giveaway!
Hey TFBers,
In November, I invited you all to the "Makeup and Martinis" event in Hollywood featuring Melissa Hibbert and her PROliphic beauty team. As you all know, I have been a bit behind in coverage, due to outside fashion projects and the rigors of daily life. I am pleased to finally weigh in and share photos from this awesome event. The crowd was fashionable and tasty martinis helped to make a social night even more social! Despite a heavy downpour of rain, there was  a steady stream of fashionistas at the event. I came early to get makeup applied by Melissa Hibbert and she did a great job!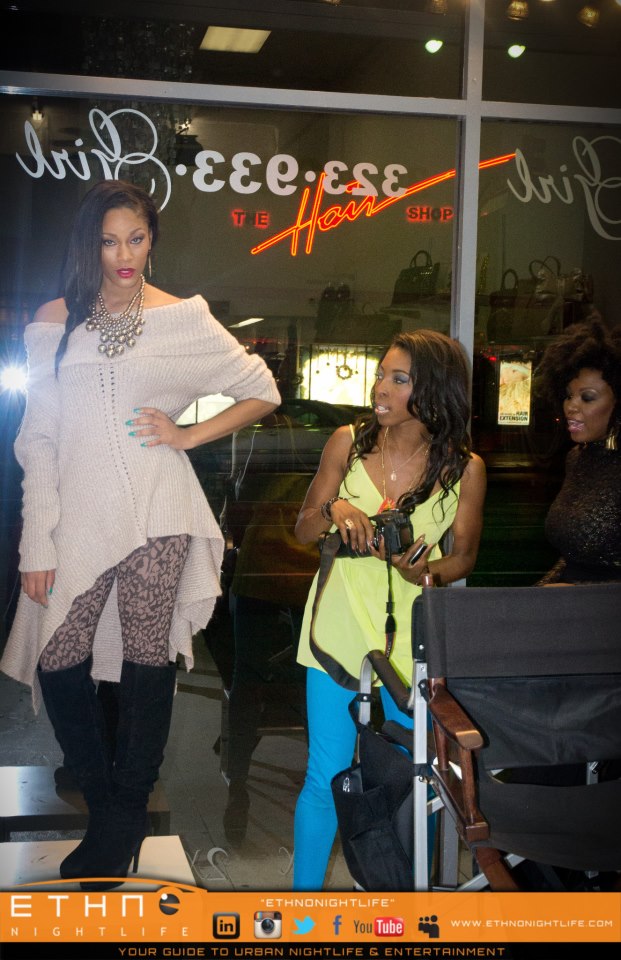 She is really talented in applying a smooth foundation without it looking overblown. She chose a bright blue with navy undertones to bring out my eyes and I loved it! I have never tried blue eyeshadow in a deeper hue and I am a convert. It is definitely a cheerier version of the smokey eye and shows the depth of Melissa's artistry. Learn more about Melissa and PROliphic beauty via her official website: PROliphicBeauty.com. As models got ready for the in store fashion installation, I wondered upstairs to check out the makeup team as they readied the model team. I like how crisp the make up looked and the lip palette was perfect for the clothes used. Melissa even mixed custom lip shades which had a few guests wishing they could purchase the shades to try later! The models were all from Multi Facet Inc. and they did a great job showcasing both fall/winter items and a few springier looks. I was chosen to be one of the hosts for the night and I had a great time meeting so many fabulous people!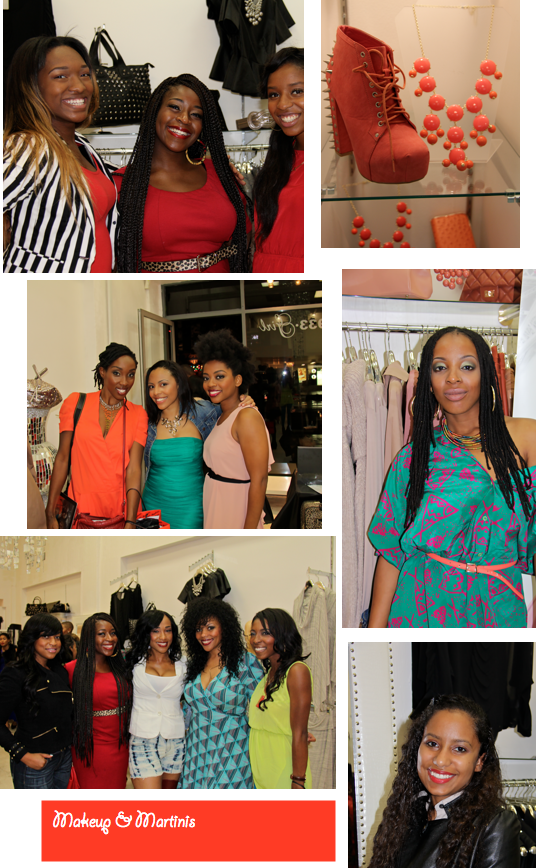 Thank you Miss Dunnie for producing this haute night of fashion! Did you attend?! Did you have fun? Leave a comment below.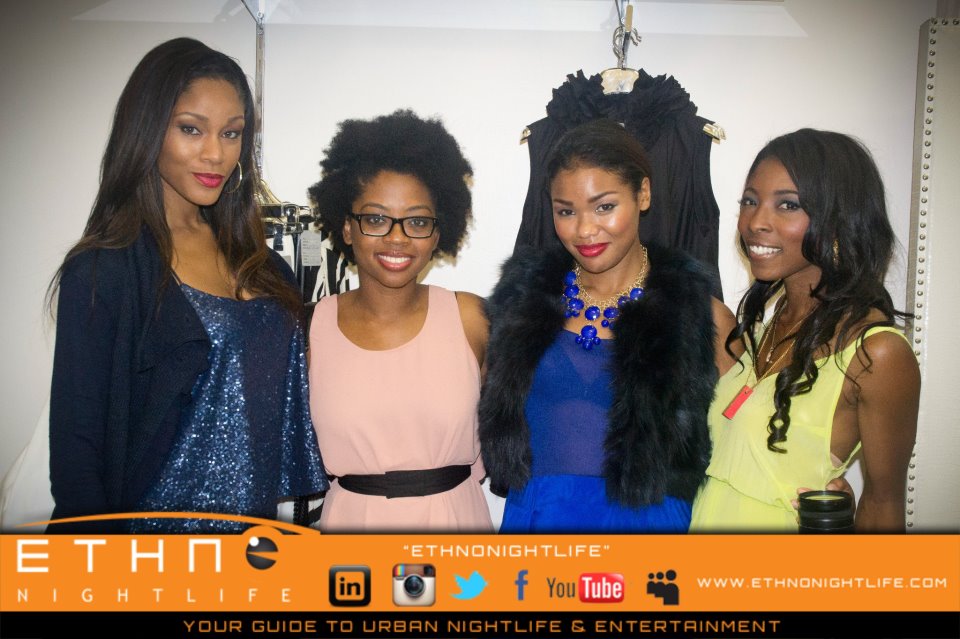 Also if you like the coral HAMSA necklace I am wearing by Love Top from Italy, the designers are giving one away to TFB readers. Entry information at the bottom of this post.
Xoxo
FashionBrew
Take a peek at photos and video from the event—

Slideshow featuring the scene and those in attendance. Fashionable attendees wore a wide variety of styles from Vintage Maven to BohoChic—there were so many stylish outfits!
MAKE UP & MARTINIS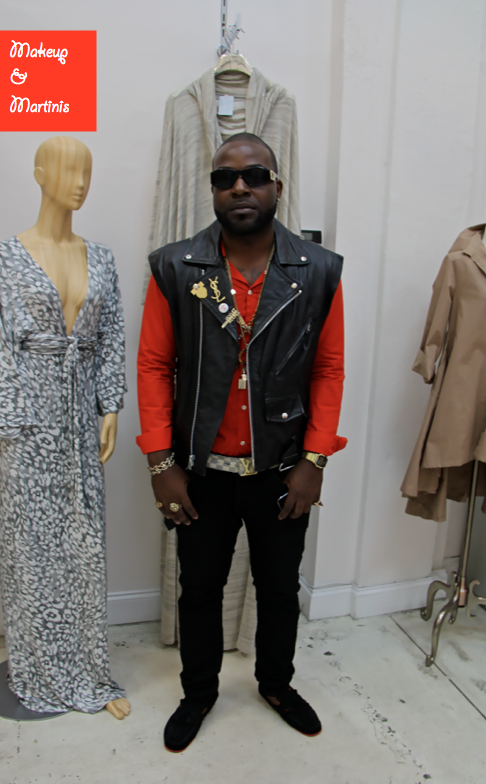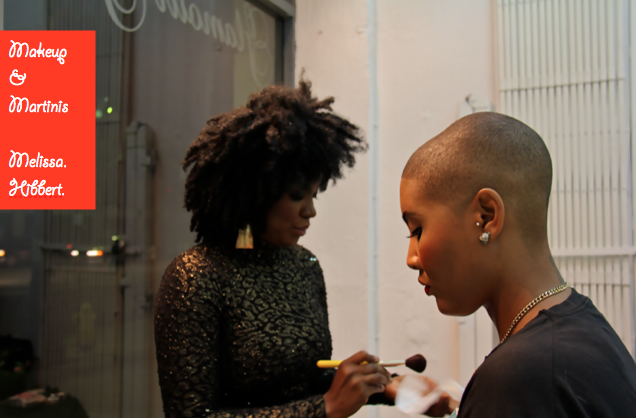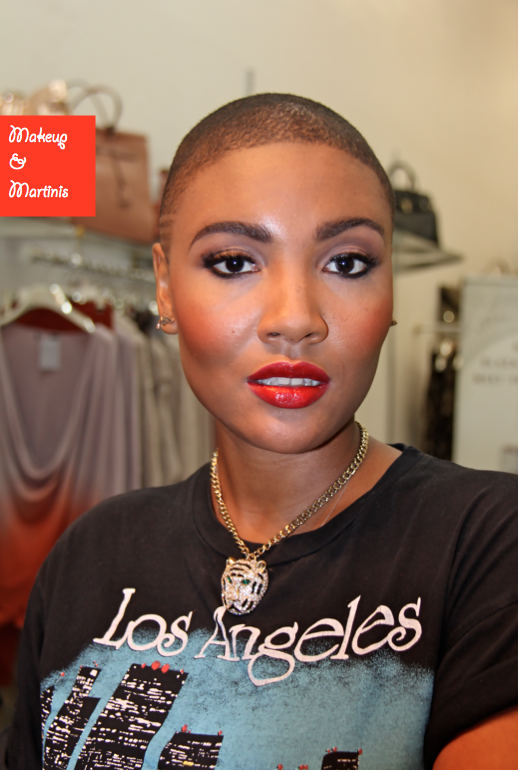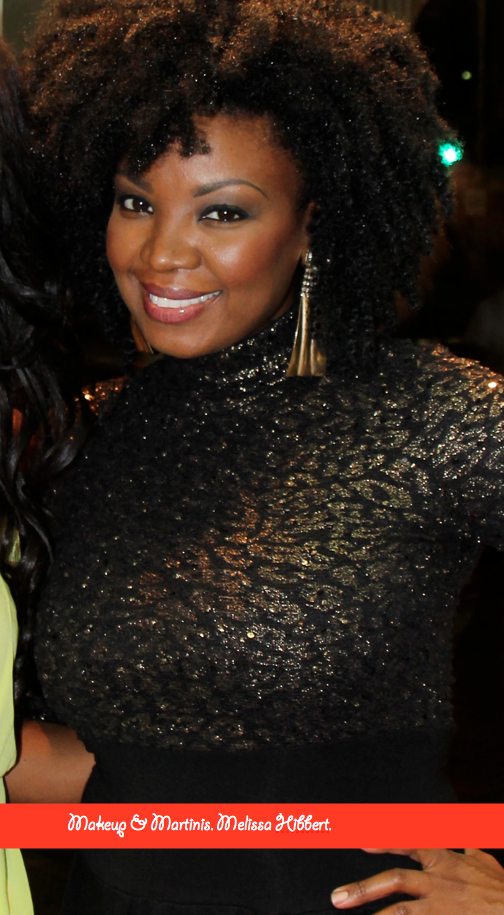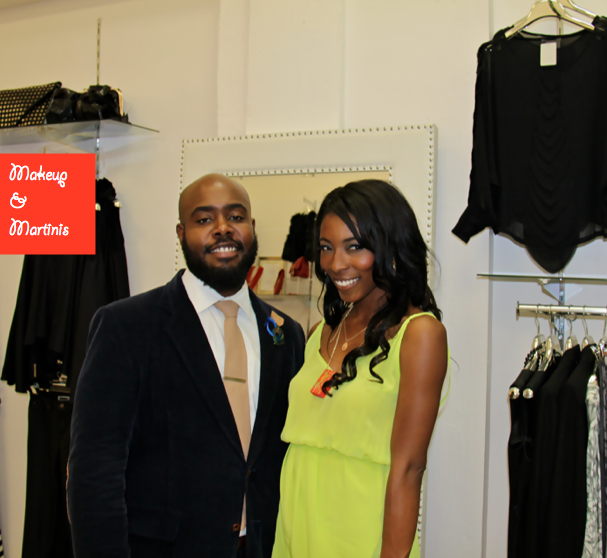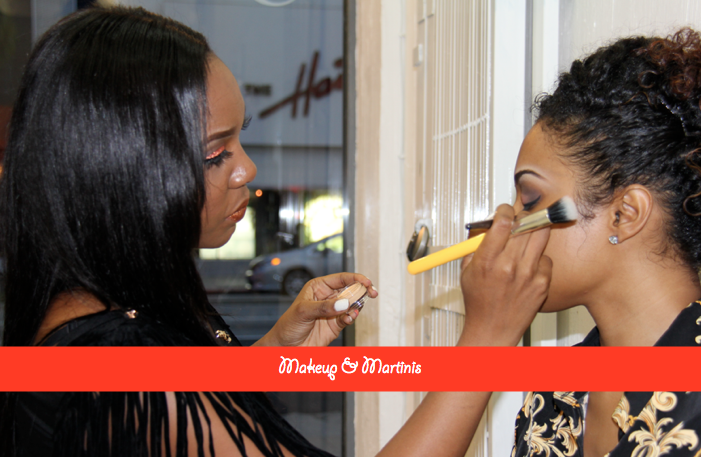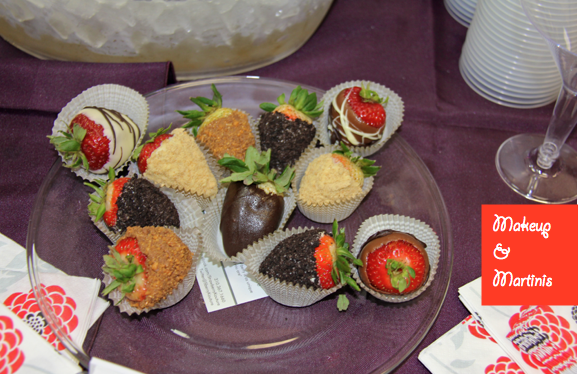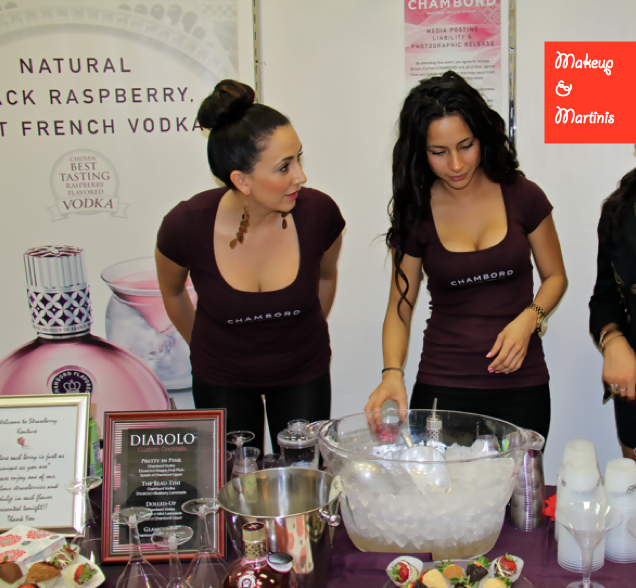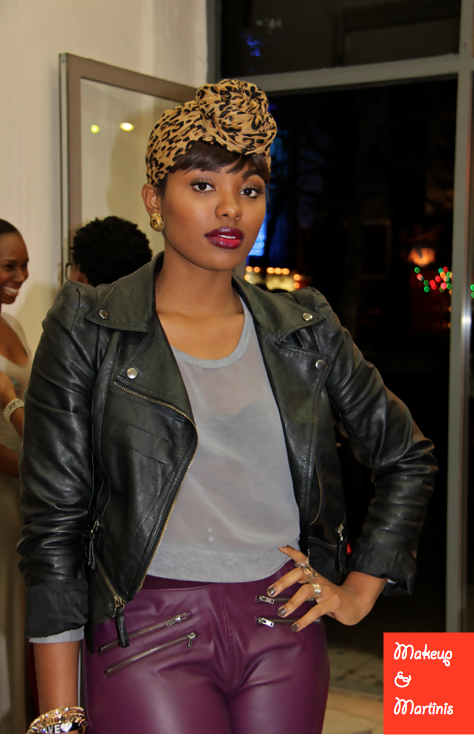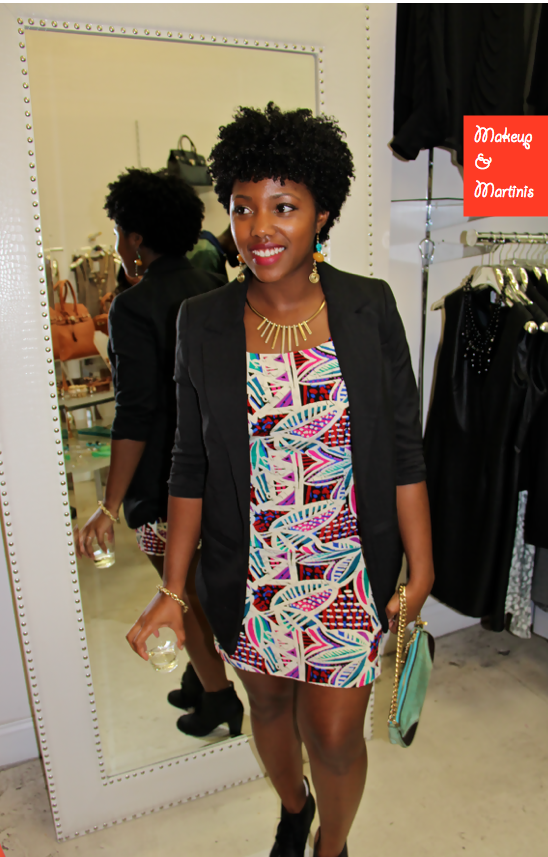 Details about the night:
Beauty, Cocktails and Fashion at "Makeup and Martinis".

Guests experienced professional Makeovers, Glamorous Fashion Show, Signature Martini Cocktails, Tasty Desserts & Hors D' Oeuvres.

In addition, attendees sampled some of the best beauty products, win some amazing beauty prizes including a full Makeover and Photo session with Melissa Hibbert and her PROliphic Beauty team.

Special Guest Fashion Stylists/ Style Bloggers-

Eburns- www.prepjerks.com
Ferriss Mason- www.urbnvntg.com
Krystle Rowry- www.krissdidit.com
Seth Brundle- www.sethbrundle.com
Telena – www.thefashionbrewery.com

Sponsors Include:

Aida Cosmetics- www.aidacosmetics.com

Diabolo Soda- www.drinkdiabolo.com

Chambord Vodka- www.chambordonline.com

Gossip Lipgloss- www.gossiplipgloss.com

Ethno Nightlife- www.ethnonightlife.com

Kyla's Taste Catering

Multi Facet Inc- www.multifacetinc.com

Miss Jessie's- www.missjessies.com

Sweet Dreams Cakes N' Things- www.sweetdreamscakesnthings.com
—
What I Wore
Wearing// Neon Top/ dress tunic: AILA BLUE Spring/ Summer 2013 (c/o), Jeans: Gap, Heels: Bebe, Gold necklace with art wooden block pendant: Vivienne Kelly (c/o), coral HAMSA necklace: Love Top (c/o), Watch: Daniel Wellington (c/o), Black bracelets: from Liberia, Pink and Mauve bracelets: Love Top (c/o)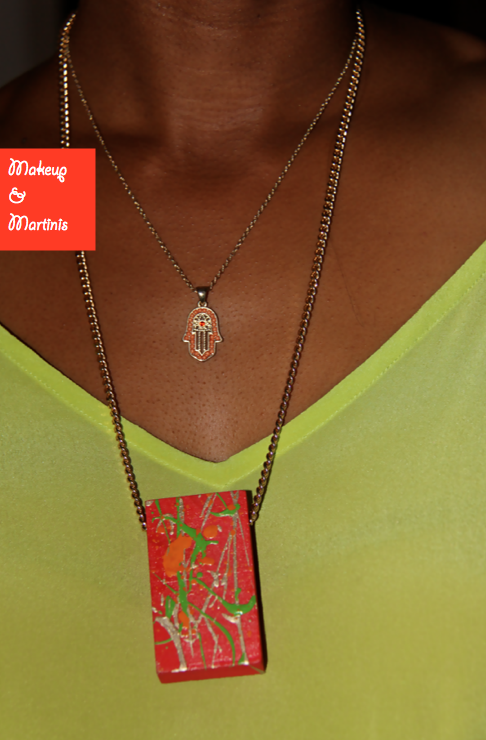 Win Love Top from Italy:
TFB presents Italy's LoveTop Jewels Giveaway! Lovetop is worn by many of the top fashion bloggers and fashion insiders in Italy but here is your chance to add a little cosmopolitan flair to your bracelet stacking game!
Do the following to enter:
1. Like Lovetop on Facebook: http://www.facebook.com/lovetopjewels
2. Like us on Facebook: http://www.facebook.com/pages/TheFashionBrewery/144039258986495

Contest ends on January 10th at 12pm EST!  This is not a daily contest lol.
I love my Lovetop Jewels and you will too! You can choose stack-able bracelets like the ones shown below or the HAMSA NECKLACE which I wore to Makeup & Martinis.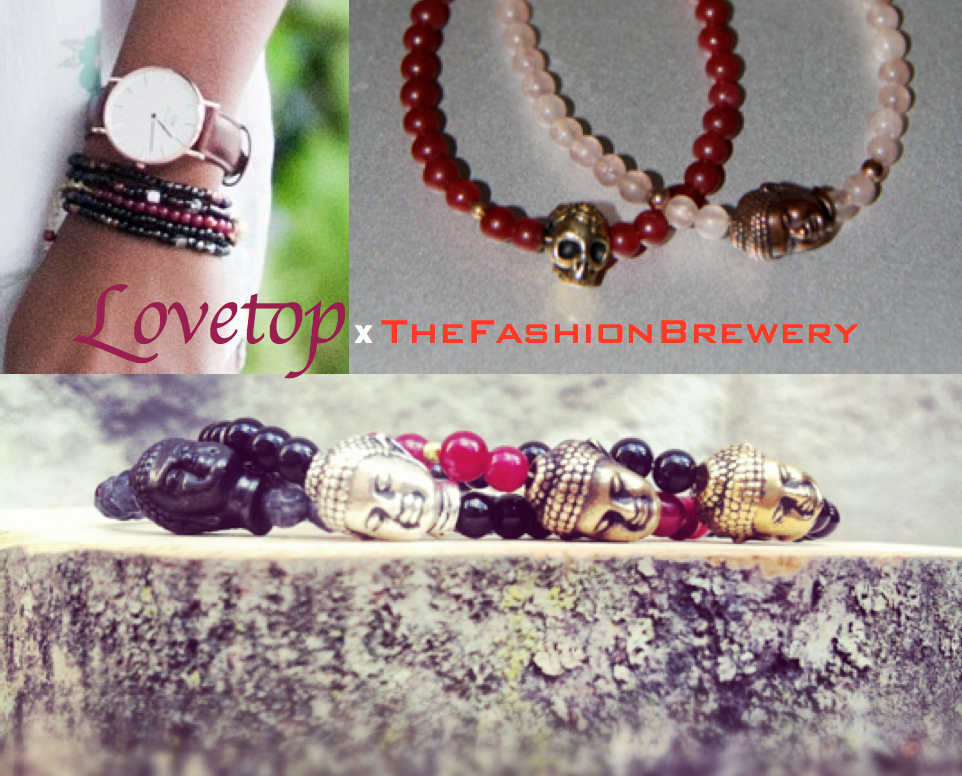 Lovetop's black buddha rosary is worn by DIOR Make up Artist Vincent Ray! YSL Make up Artist Donato Anaclerio also wears Lovetop's rosary necklace. Will you?