Los Angeles Fashion Council Fall 2013 Collections Day 1 & 2
This week, I was invited to view collections curated by the Los Angeles Fashion Council. One of my contributing writers was suppose to make it but hard car troubles! Still, Kelsi Smith, the founder of the Los Angeles Fashion Council, sent me an overview of the two day long presentation. I thought it would be nice to share these new designers with you all!!!  As always, I am a huge proponent of supporting new talent in design. I hope you discover a designer that suits your personal style from those introduced in today's post. Enjoy! Xoxo FashionBrew
Los Angeles Fashion Council  Fall 2013 Collections 
Day One – March 6th 2013
Day One of the Los Angeles Fashion Council Collections were off to a great start, in our recently renovated space in the heart of the Fashion District. Press, bloggers and buyers gathered to see the Fall 2013 Collections of L.A based up and coming designers, ISM Mode and Sarine Marie.
Special Thanks to our hair and make-up sponsors: Cinema Make Up School, Peroni for providing our bar, Manny Castro for his art and Factory L.A for all their support.
Photo Credit: Feliz Salzman: Lookbook LA
ISM Mode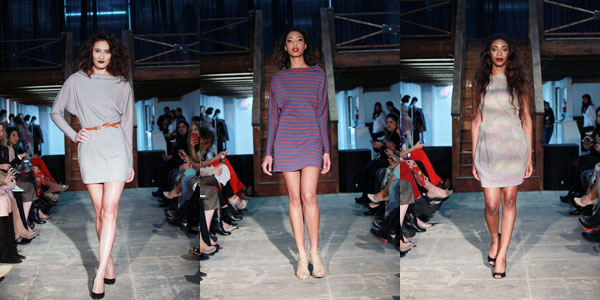 For Inka, of ISM Mode, designing a collection is an organic process. She starts with a feel and shapes that she wants to create, then looks into fabrics might to satisfy her vision whilst letting the fabric inspire her. Every season she experiments with shapes on the mannequin and comes up with unique dye techniques to add color and patterns. ISM Mode is a sustainable and eco driven line.
About Inka Sherman, ISM Mode:
Spending her formative years living in an alternative artist commune in Austria grounded Inka in her design and artistic investigation. She concentrated her craft studying fashion at FHTW-Berlin, where she graduated with a masters in fashion design.
Internships in New York with fashion designer Anna Sui and in Sydney at the Australian Film Television and Radio School assisting the costume designer on the Oscar nominated short film, The Savior, refined her skills. Returning to Germany, Inka kept busy working with costume designers on commercials and films, including the Oscar wining best foreign film of 2007, The Counterfeiters. During that time she was also developing her collection for her label ISM that was launched upon her move to Los Angeles where she is now based.
Inka, a member of the Costume Designers Guild, is now concurrently designing for her label ISM and styling and costume designing for DRES/SET.
Sarine Marie
The Fall/Winter 12-13 collection was inspired by lady-like silhouettes. Sarine Marie plays on both a classic yet edgy element. Accentuating all body types and lifestyles, the collection is prone to add chic sophistication in every ensemble. The Fall I group consists of delicate, feminine fabrics and silhouettes with tailored jackets and outerwear.
Laces, virgin wool, silk, and wool gabardine in light feminine colors such as nude, black, nude pink, ivory, and gold are also combined mixtures in the fall collection. The second group of the fall collection is edgier yet still maintains a feminine air. With feminine silhouettes, tailored jackets, mixed fabrics and textures like leather, metallic, and various colored tweed, both groups of the fall collection display different sides of the Sarine Marie
About Sarine Marie:
Sarine Marie is an up and coming high-end women's contemporary line designed by Sarine Berberian. Based in the heart of Los Angeles, where they design and manufacture merchandise in-house.
Born and raised in Los Angeles, she has been exposed to an assortment of different styles and personalities which she believes has helped bring out her "inner fashionista". Sarine graduated FIDM in 2009.
Los Angeles Fashion Council 
Fall 2013 Collections 
Day Two – March 7th 2013
Day Two, our final runway day of the Los Angeles Fashion Council Collections saw three shows, in our recently renovated space in the heart of the Fashion District. Press, bloggers and buyers gathered to see the Fall 2013 Collections of L.A based up and coming designers, SOLDAT, 8000 Nerves and Odylyne.
Hair and Make-up provided by a team of Cinema Make-Up School. Special thanks to Peroni for providing bar and Factory L.A for all their support.
Photo Credit: Feliz Salzman: Lookbook LA
SOLDAT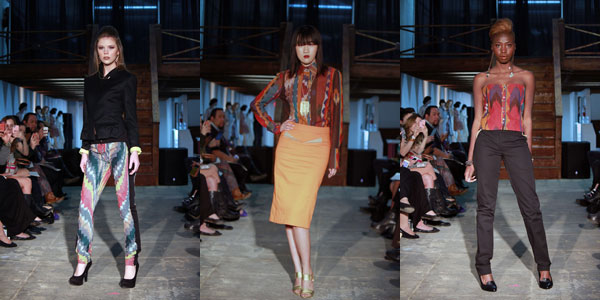 S O L D A T  is a collection of edgy eco suits and separates. Tailored in U S A.
The collection helps women who work in creative industries such as Fashion, Advertising, Media, Beauty to dress professionally but not in a boring 'corporate' kind of way. (sorry bankers and lawyers!)
The materials used are high quality organic and natural materials.
For the S O L D A T Fall/Winter 2013 collection the fabrics include :
•Eco Twill -made of recycled water bottles!
•Cotton Ikat -hand dyed and woven in India
•100% wool -super soft
•100% silk lining -for added luxurious comfort
About Camilla Wright, SOLDAT:
Camilla is originally from Finland. After graduating with a BA in Design,
she started her career as a Fashion Designer in New York City. After almost 15 years of working in the industry (and a move from NY to CA), S O L D A T was born in 2008 with the first collection launching at Pool Tradeshow in Las Vegas.
The S O L D A T line has since been featured at various tradeshows, blogs and most recently sponsored by WWDMAGIC as part of their Emerging Designer Showcase.
8000Nerves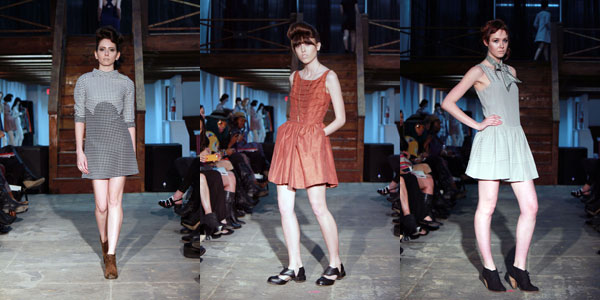 8000Nerves was created by 4 loving and creative sisters as a domestically manufactured contemporary clothing line. We unite texture, colour and vintage inspiration to create things that are feminine and joyous, yet modern. 8000nerves is a philosophy in itself. Be daring, be free, be true to you. The idea is to embrace the notion to love, live life to the fullest, and put aside all the negative stuff that makes us unhappy.
We all have the basic components that can bring us the most joy, and it is up to us to search within ourselves to find it. Own who you are and be as confident as you can be. We are all unique and wonderful in different ways so live freely within this concept.
The idea is to own what makes you unique and dress the part of the free spirited, colourful person you can be. You are the master of your own destiny and the only person who will decide where you'll go, how you'll get there and what you'll wear along the way.
Odylyne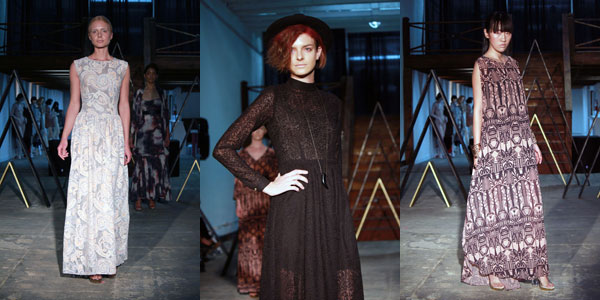 This Fall 2013 collection was inspired by our relationship with the universe. Looking to the galaxy as the force behind all the major shifts that happen in our daily lives and ultimately heighten the theory that we, humans, are made up of cosmic matter. The theory that somehow we are cosmically born into this life by the result of a fallen star is quite intriguing and keeps alive the belief that our souls are heavily connected with the unknown.
The Galaxy and the Universe Immaculate collections are inspired by our afterlife here on earth as a celestial being but a remembrance of our past lives as a cosmic star and everything that embodies it.
About The Collections:
The Los Angeles Fashion Council Collections, now in their second season, were designed to provide a legitimate platform for L.A designers, press and buyers to converge and celebrate L.A talent. This season they have taken residence in a newly renovated retail space on Los Angeles St, which will play host to a number of different programs throughout March including runway shows and a market week show room.
About Los Angeles Fashion Council:
Los Angeles Fashion Council was founded in 2011 by Kelsi Smith, to promote, educate and support Los Angeles fashion designers through shows, show rooms and other retail and promotional projects in Los Angeles, nationally and internationally.
Designers are selected by our team, and must be L.A based, in business for one year and have produced a minimum of two collections. There are no fees for designers and participation in any of our programming is either free or at cost price.