New York// Victoria gives us details from the S.I.L.K. Press Preview!
Hi TFB Readers,
My name is Victoria and I am a new writer for TFB! Recently, I attended a Fall Press Preview for the S.I.L.K. Collection. I snapped a few photos and I also have some amazing official photos to share with you!
My favorite jacket of the collection by far was this grey and cream number below!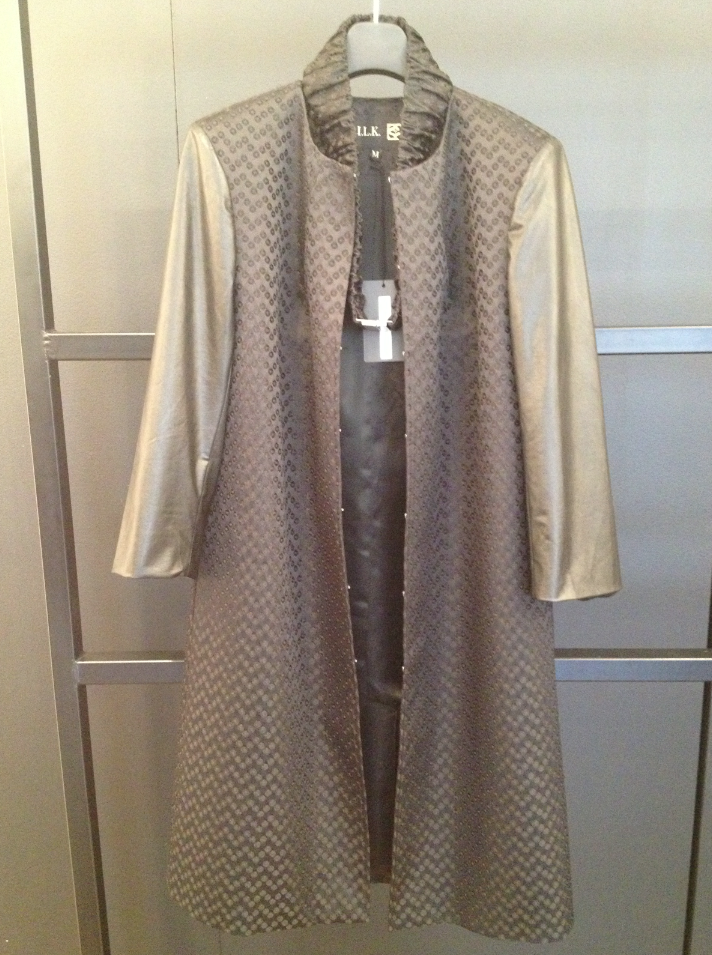 The next photo shows the sequin detailing on one of their shift dresses; it's a combination of sequins and leather. Excellent quality and the fabric also has great weight to it.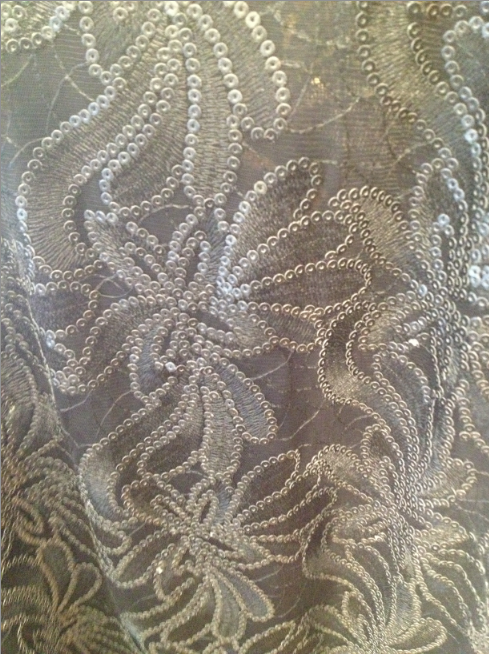 This is a fun coat, a little retro flower power/love child… I liked it immediately because I've never seen a print with this type of cut like that is quite like this since the 60's and 70's.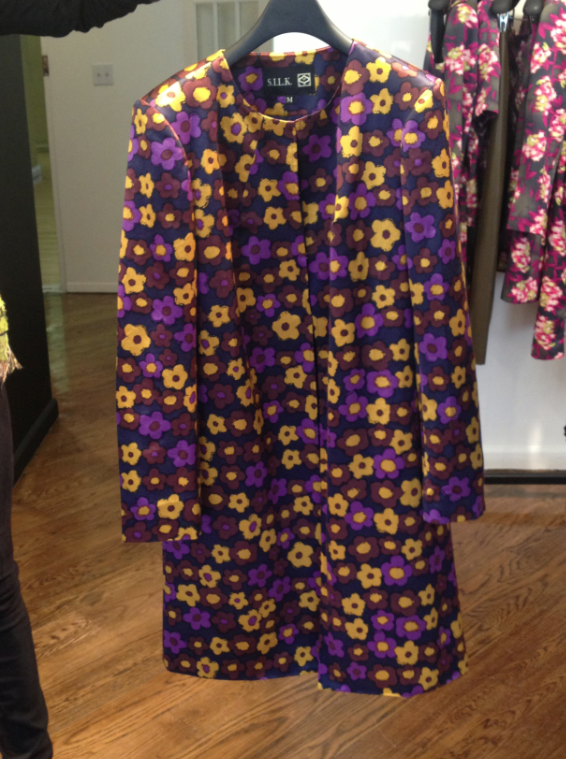 I also love this metallic and gold shift dress. It goes great with flats or heels. It was also said to be a popular favorite from the collection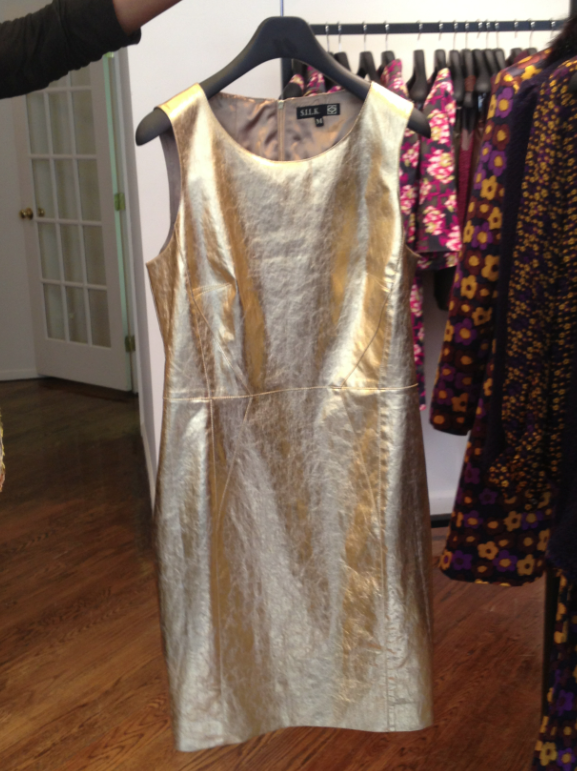 I loved this dress because of the leather detailing. However,I not to sure how it's going to look on a slim girl, it may need to be belted for best fit.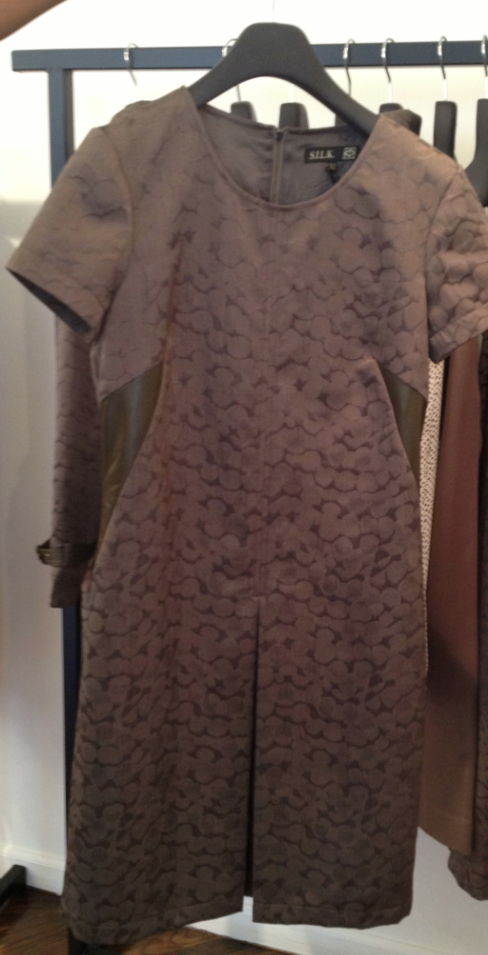 I also liked this jacket too! It has a great brocade-esque feeling, tench/dress coat all in one, and the color was an olive green/charcoal grey combo… It was really pretty and totally classic!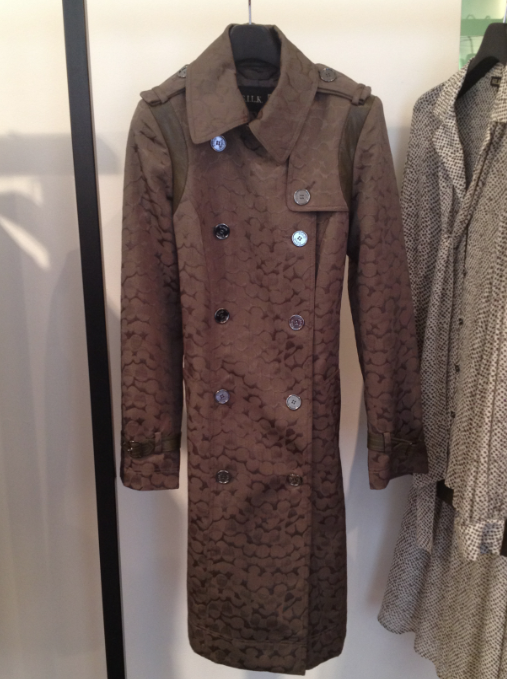 Loved this top, esp with the leather detailing around the neck and the ruffles. Edgy yet feminine.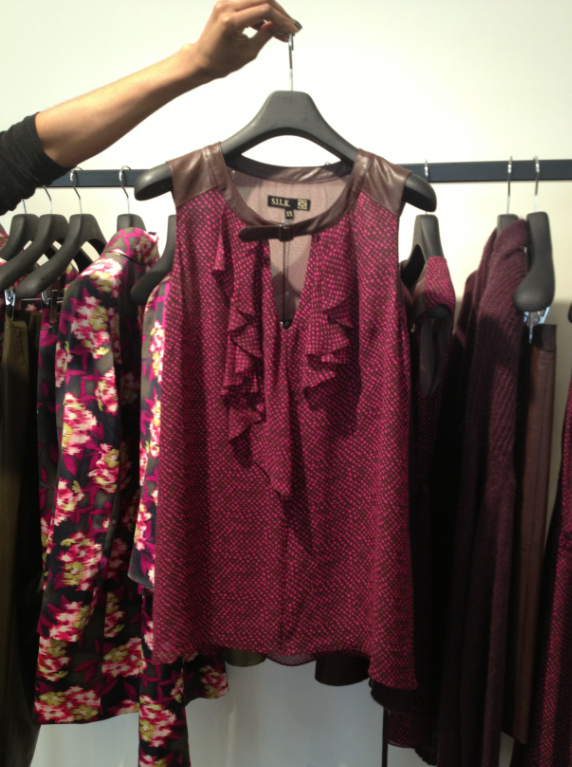 So the collection was really beautiful. The clothing is made of great quality and is well tailored (or at least appears well tailored because of course I can't try anything on) the color palette is bold, the prints are different, and are unconventional while still being a go to staple piece for the wardrobe.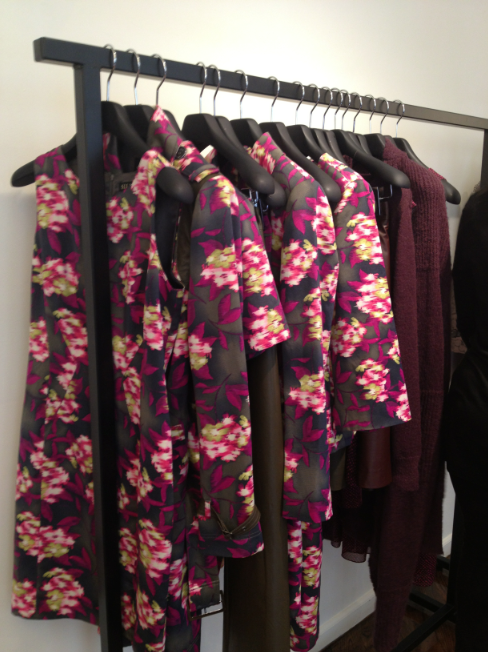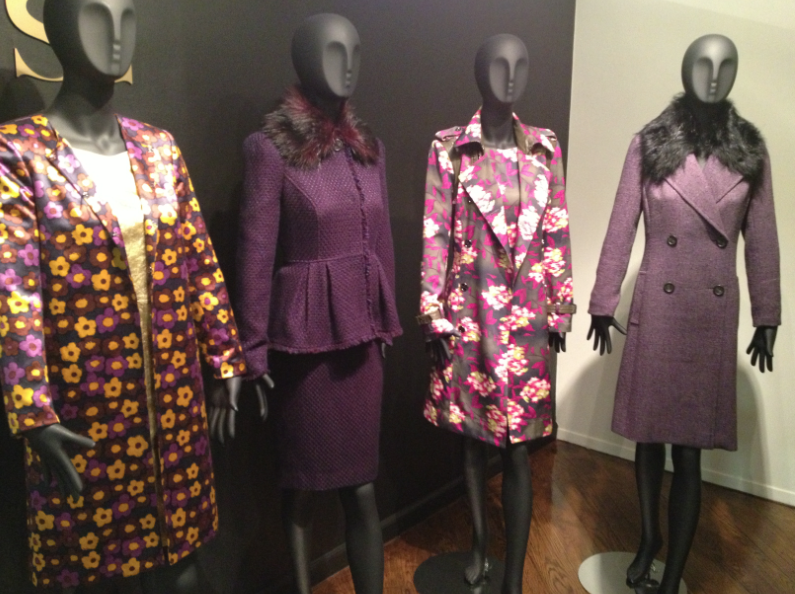 The collection exudes an heir of sophistication and is perfect for your stylish working girl and transitions really nicely from day to night.
The collection entails your typical shift style dresses, hints of leather throughout the collection, prints, lace, gold/metallics, and mixing of fabrics ie silk and leather and silk with wool etc. sequins, printed trousers, brocade, and of course lots of peplum!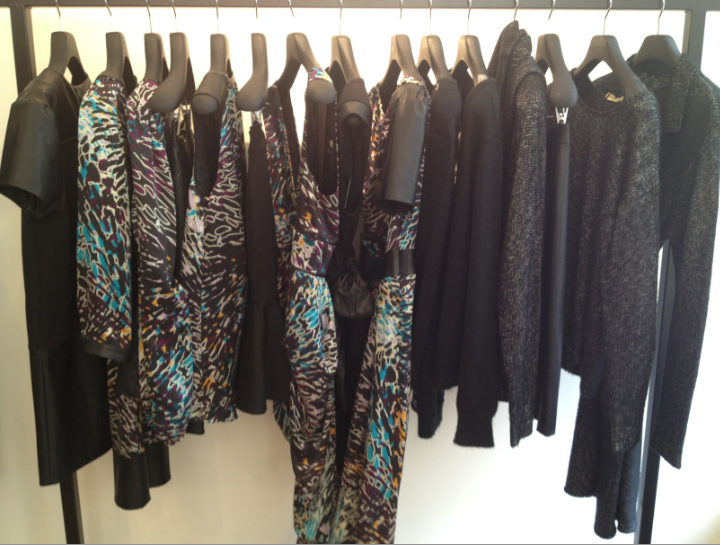 I could totally see myself in that collection. Simple yet edgy. They have been around for what is now there second season and comes with a great price point ranging from $200-$600.  I also want to share photos from the official lookbook. Feel free to share the slideshow below on your blog or with friends!
Make sure to follow S.I.L.K. on facebook (https://www.Facebook.com/SILKnewyork) for the latest updates with their line!
Kisses,
Victoria
The Line: "In its second season, the New York-based women's fashion brand creates chic and affordable looks for the modern woman. And, true to its namesake, uses mostly silk and silk-based fabrics. S.I.L.K. combines contemporary with classic while balancing simple and ladylike styles that transition easily from day to night.

For Fall 2013, designer Michele Lee envisioned a cosmopolitan woman, effortlessly elegant, feminine and sophisticated. Lee's bold floral patterns and gold metallic faux leather textures accented the mainly olive, bordeaux, navy and black color palette. The reasonably priced collection ranges from $222 for a camisole to $570 for a floral trench coat."
Available at the following retailers: B.Barnett – Little Rock, AR; Barbara Katz-  Boca Raton, FL; Harari –  Beverly Hills, CA; Sophia Lustig –  Toledo, OH; Tango – Greenvale, NY
New York, TFB Contributing Writer: Meet Victoria G.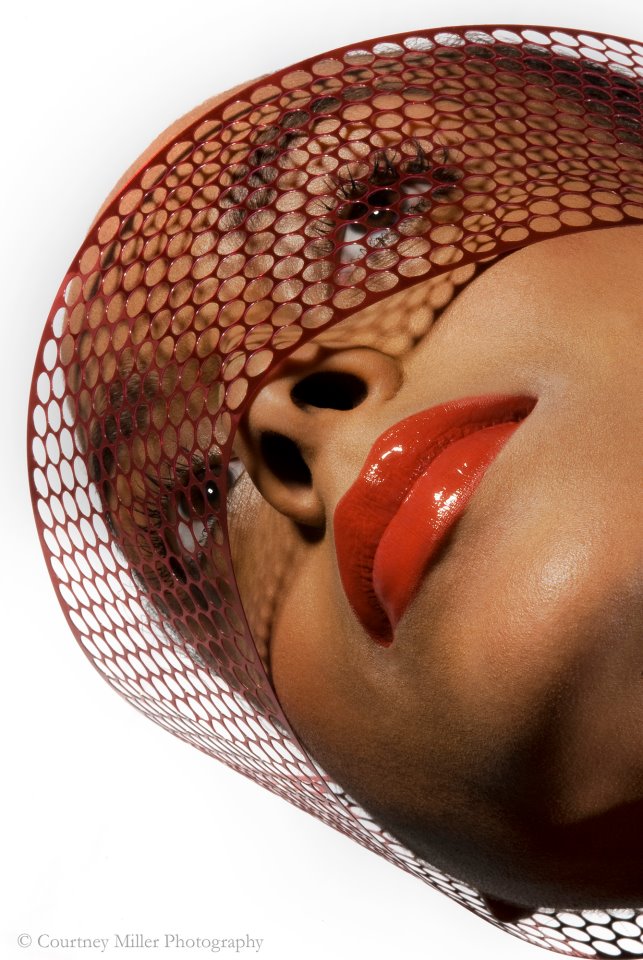 Victoria is a fashionista and lover of all things french. She grew having an innate passion for fashion that was no secret to anyone. Currently working at a hedge fund, Victoria channels her love for clothing in her daily outfits of course, but also by selling haute couture and vintage clothing that was previously owned by wealthy New York City women, as well as acting as their personal stylist. With a growing client base Victoria hopes to parlay her love for clothing into something she can one day call her own.