Clavinna, UK // For Fox Sake! Fashion's Going Vegan, Are You?
Pythagoras believed that animals deserved respect. That was in 6th century BC.
The first record of animal protection laws in the English-speaking world was passed in 1635 in Ireland.
Today, in the 21st century, more than half the world's population are aware of animal rights. Despite awareness campaigns, many countries still don't lawfully enforce animal welfare laws, and in developed countries, many people approach the issue with an 'out of sight, out of mind' mentality to benefit their own luxury.
I admit, having grown up in a culture where animal-derived food is a staple in almost every meal, it's difficult to make a non-gradual change to my diet. But when it comes to fashion, there's no need to think twice.
Many are aware of what goes on behind the scenes, but for those of you who aren't, or for those who have turned a blind eye, here's an outline:
Over 50 million animals are murdered per year. And that's just for fashion. Let's also not forget that humans succumb animals to unnatural breeding that result in genetic defects. The saddest part is that a lot of these animals are destined for the slaughterhouse, with many generations of their family being bred for the sole purpose of society's demands.
Leather: Most commonly cattle, but also made of pigs, deer, elephants, snakes, seals, sharks…and that's just naming a few. Mothers are forced to watch their calves/kids/fawns/cubs brutally tortured and murdered, whilst suffering the same ordeal. In the case of farm animals, some argue that their skin is a byproduct of the meat industry, and therefore it makes no difference as to whether or not they are used for the fashion industry. However, healthy eating is on the rise, and if paired with abstaining from animal-derived goods, we could see both industries improve sooner rather than later. Huge numbers of these animals are crammed into tiny spaces where their faeces and urine are left to rot with their infected wounds, caused by painkiller-free castration, dehorning, docking and branding (third-degree burns). They live on hormones and antibiotics to fatten them up and prevent them from dying before any profit is made. And that's all before facing long journeys in extreme weather conditions, unattended injuries, starvation and thirst, slave chains, death marches, and being skinned/dismembered alive with blunt knives.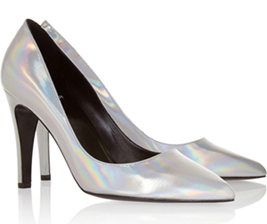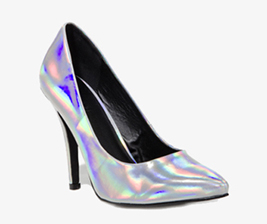 Right: Pierre Hardy holographic pumps (100% Calf Leather) – £279 / $377.50
Left: Forever 21 hologram pumps (100% PVC) – £19.75 / $16.99
Save: £259.25 / $360.51, and a baby cow!
[Photos courtesy of Polyvore and Forever 21]
____
Fur: Made from foxes, chinchillas, rabbits, minks, seals, bears, and even cats and dogs…again, that's just naming a few. Many are raised and murdered on fur farms, but the real luxury lies in wildlife. Poachers make use of traps that slowly drown the animals or mutilate their bodies. They are left for up to 1 week with broken limbs and bones, dying a slow and painful death from blood loss, gangrene, infections, extreme weather conditions, starvation and thirst, and exhaustion. Many animals will fail in attempting to chew off their own limbs in order to break free and return to their young. If the trapped animal is still alive, poachers will bash their skulls in.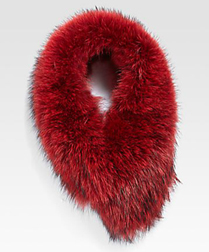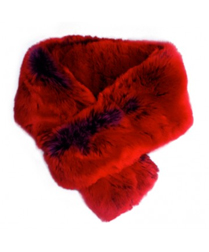 Right: Sherry Cassin classic fur collar (Coyote Fur and Polyester Rainsilk) – £156.51 / $225
Left: Imposter faux fur scarf (85% Acrylic, 15% Cotton) – £91.99 / $139.95
Save: £64.52 / $85.05, and a coyote!
[Photos courtesy of Saks Fifth Avenue and Imposter Online Boutique]
____
Wool: Most commonly sheep, but also made of goats, rabbits, camels and muskoxen. Some don't view this as animal cruelty, because all you do is shear a sheep. Well, that's not all you do. A practice known as mulesing involves the removal of flesh from a lamb's backside. It's done to prevent flystrike (maggots infesting and feeding on the body's tissue), but if it wasn't for humans intervening with nature's breeding, there would be no need for it. The painkiller-free procedure involves forceful restraint of the animal, carving chunks of their flesh off, and leaving a gaping wound that succumbs to infection.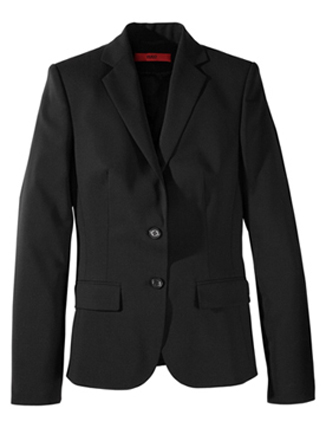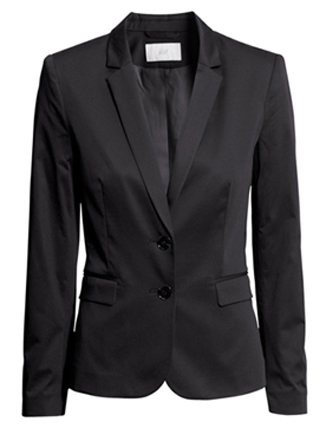 Right: Hugo Boss body-lined blended blazer 'Amiesa-2' (98% Virgin Wool, 2% Elastane) – £270 / $410
Left: H&M  figure-fit blazer (97% Cotton, 3% Elastane) – £29.99 / $49.95
Save: £240.01 / $360.05, and a flock of sheep!
[Photos courtesy of Hugo Boss and H&M]
____
Down: Most commonly ducks and geese. Down is the layer of feathers that's closest to a bird's skin, so you can imagine how painful it is to have fistfuls of it plucked out whilst being painfully restrained. This often leads to the birds' skin being torn apart and being stitched back up, again without painkillers. The plucking procedure starts from as young as 10 weeks old, and routinely continues until the bird dies from pain or infected wounds.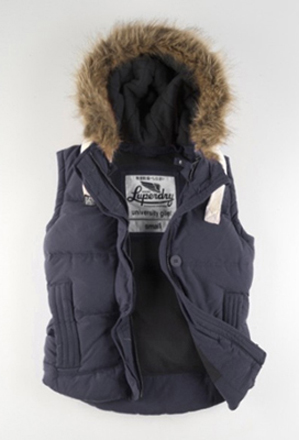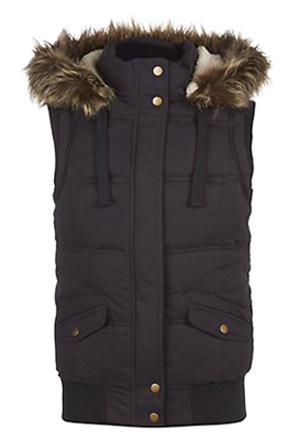 Right: Superdry university gilet (Padding: 60% Feathers, 40% Down. Lining: 80% Cotton, 20% Polyester. Material: 70% Cotton, 30% Nylon) – £94.99 / $144.50
Left: New Look hooded gilet (100% Polyester) – £34.99 / $53.20
Save: £60 / $91.30, and ducks and geese!
[Photos courtesy of Superdry and New Look]
____
Silk: Most commonly silkworms. Worms may seem gross, but the pain of being boiled alive is beyond gruesome.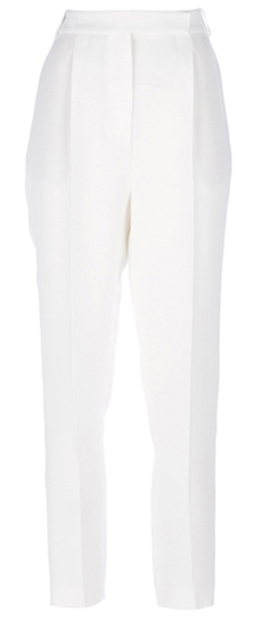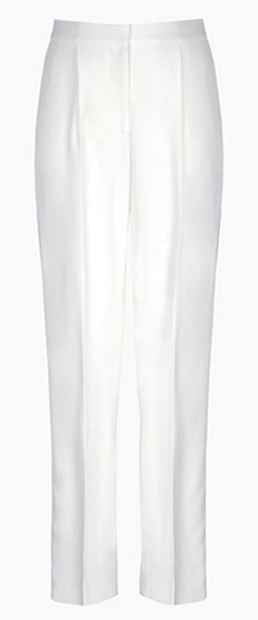 Right: Lanvin high-waisted trousers/pants (74% Silk, 26% Viscose) – £595 / $827
Left: Stella McCartney voile fluid tailoring trevor trousers/pants (59% Rayon, 38% Cupro, 3% Elastane) – £330 / $458
Save: £265 / $369, and silkworms!
[Photos courtesy of Polyvore and Stella McCartney]

Many of my friends tell me, "they're already dead, there's nothing we can do about it." This proves that many still do not realize that the more you buy these goods, the more incentive you give businesses to focus on profits rather than compassion.
That bag may be the highlight of this season and gain you the attention/confidence that you are seeking, but by next year, it'll be tucked away in your closet or sold on eBay, to make room for the new 'it' bag. Do yourself the favour of buying a cheaper, abuse-free alternative of that bag. It could mean that you get to afford an extra vacation each year, and maybe 50 years down the line you can tell your grandchildren that you played your part in the closure of inhumane farms and factories.
Many fashion designers/houses/brands have vowed to refrain from using any animal-derived materials in any of their lines. These are just a few designers that have really captivated me with their mission and their collections. The good news is that no matter where you are in the world, you can shop online!:-
Bo Carter
This up-and-coming designer doesn't follow runway trends, which is what makes her clothing designs timeless. Opened last year, her boutique is located in Leeds, England.

____
Elsa and Me
Owned by Maja Svensson and founded by her grandmother, Elsa, in 2009. Their dress designs are simply stunning, and perfect for a 9-5, and then after-work cocktails. They are based in New York City.

____
Frock LA
Founded by Victoria Tik in 2009, celebrities such as Britney Spears, Lana Del Ray and Leighton Meester have worn her designs on the red carpet. Their designs are symmetrically stunning, and they cater to women and men. Based in Los Angeles, California, they have stores across the US.

____
Heidi Merrick
In 2006, she debuted with a 4-piece collection. Since then, her designs have appeared in Elle, InStyle and Vogue Türkiye, and on Jessica Alba, Demi Moore and Jaime King. Find women's fashion and home collections. The flagship store is located in Los Angeles, California, and they have stores in Canada, Kuwait, Hong Kong and Japan.

____
Neuaura
Arti Upadhyay founded this animal-free shoe brand in 2007. Find flats, sandals, heels, wedges and boots. They have stores across Europe, North America and Japan.

____
Pachelbel
Karen Cheng, along with her team of designers, have gone out of their way to create vegan luxury bags. Their store is located in Singapore.

____
Susan Nichole
You'd never guess that her bags and wallets are 100% animal-free. Her designs cater to any event, from weddings to a sit-down at a café. She is based in Los Angeles, California.

____
Vaute Couture
Leanne Mai-ly Hilgart launched her collection at the Mercedes-Benz Fashion Week in February earlier this year. Women's, men's, children's, jewellery, accessories, and even for dogs. It's looking more and more likely that the designer and her brand will be the next big thing in the fashion world. The flagship store is located in Brooklyn, New York.

____
And check out Modavanti.
It is by far the best sustainable fashion directory! Note that it's sustainable fashion, so they do stock non-vegan fashion as well. Just don't forget to read the details of each item thoroughly. Sadly, they don't have an international shipping service, BUT! if you email them, they'll be more than happy to find a way to post it to you. They stock a wide range of clothes, jewellery and accessories from designers all over the US.
Hello one and all!
First and foremost, I'm thankful for the chance to be a contributing fashion writer, and I'm thrilled to be part of The Fashion Brewery crew!

I guess my passion for fashion stems from my XX chromosomes, but my love for it came about when, from the age of 16, I was given the opportunity of working with photographers, MUAs and stylists across the UK and Malaysia as a freelance model at a semi-professional level.

In 2010, I graduated with a BA (Hons) in Film Studies and Drama. Film & TV will always have a special place in my heart, but I couldn't refuse my lifelong passion, so as of September 2013, I'm returning to university to study Graduate Diploma in Fashion Management at London College of Fashion.

My articles can also be found on my personal blog, http://writtenbyclavinna.wordpress.com, where I also write about film, food, and any views or thoughts that I may have in regards to everyday life.

In my free time I co-present an independent film review podcast, Talking Pictures Presents, which is available free on iTunes. I'm also planning to launch a jewellery line, but that's still at the very initial stage.

I'm a Third Culture Kid who currently resides in London, England with my feline daughter, Moeja. I hope you readers enjoy my articles just as much as I enjoyed writing them!

Love, Clavinna
x