Tasty Nails: Sherbert Nails & Sherbert Ice Cream Inspired Accessories (Nail-mania)
Hey Tfbers,
Looking to add an icy but low key nail design to your inspiration board?! Well, I opted to try a soft subtle sherbert ice cream inspired nail design. I created this design and I am pretty happy with the results. Hope your August is going well. I know it is has been a nail bonanza on the blog and instagram but I study with audio and it is very easy to listen to lectures while also doing nail designs. It actually helps me weirdly stay more focused on what is being said even though I am multi-tasking. So July is officially nail mania at TheFashionBrewery! Check out my take on pastel hued sherbert ice cream tones: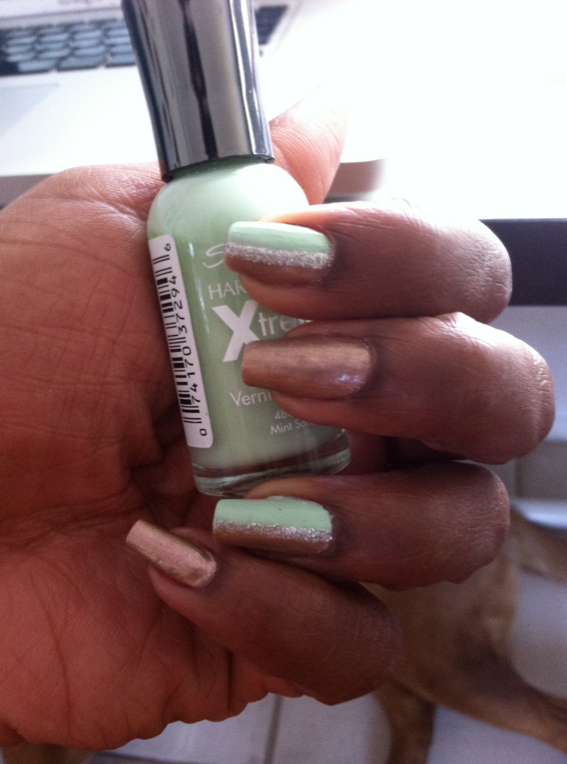 Glitter can be added to add a bit shine t the planer nails if you choose.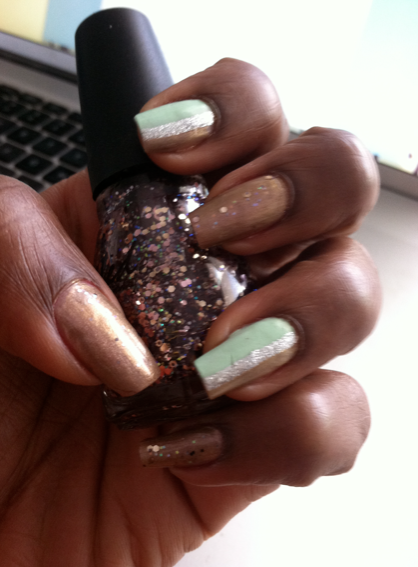 Steps:
1. Paint all nails the golden peachy color first. Allow to dry.
2. Take mint green polish and paint half of nail. Make sure to do two coats. it is ok if it is not perfect. Allow to dry.
3. Use a nail art polish with a thin brush to dray a line down  the middle. This will cover up any unevenness.
4. If you choose use a transparent glittery top coat on the nails without the design for additional glamour.
5. Finish off all nails with a clear top coat.
The steps are very easy and this is a basic DIY nail design that can be completed relatively quickly. Enjoy!
xoxo
Fashionbrew
Here are some other takes on Sherbert Ice Cream inspired nail art designs from around the web::
Like the triple stripe bright sherbert nail design below?! Picture Tutorial can be found here…
I also decided to pick out three drool worthy handbags in complimentary shades to the sherbert color scheme that could be worn with this nail art design or to just add a bit of sherbert ice cream inspired vibe to your look. Contrast is everything. I would actually like to try a sherbert contrast outfit this summer. : )
Avaialble via anjouclothing.com
Celine bag
YSL
Remember to follow me on instagram at: https://www.instagram.com/fashionbrew for even more nail mania!