Travel Around the World with Nanette Lepore Swim + the Nanette Lepore Inspired Mani to Match!
Hey Tfbers,
Today is another series in the Bikini Brew swimwear series! Nanette Lepore's latest swimwear collection is both eccletic and unique. I am a huge fan of  styles inspired by world travel and other countries and so is Nannette Lepore! Her aesthetic is colorful, fun and tasteful. Each suit is inspired by a location or cultural region.
Print: Greenwich 
Trust me when I say that Nanette Lepore's  swimsuit collection will bring out the inner globetrotter in you when you get a peek at her selection of bikinis! The only downside to her collection is making a choice! Yes, making a choice may just induce a few tears or at least some head scratching… It was very hard for me to pick my favorites!
Print: Polynesian
Today, I also paired a Nanette Lepore Swim Coverup from her 2013 First of Cruise collection with heels to show you how you can transition your swim look from the beach to the streets—or maybe lunch with a friend! Check out the slideshow below for details and photos: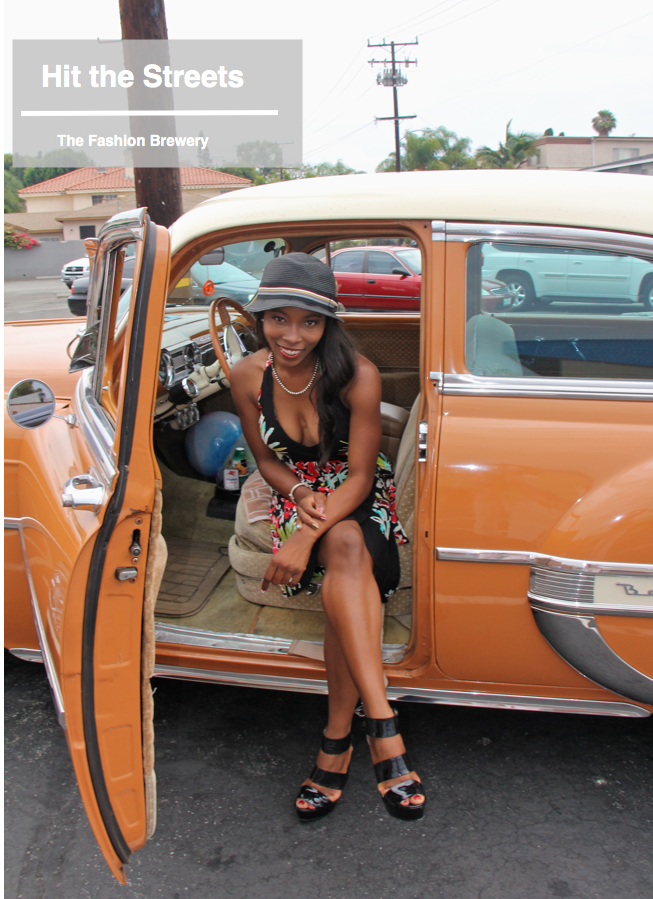 Wearing: Bikini Coverup: Nanette Lepore Swim 2013, Black and White Necklace: the Gambia, Silver Necklace: The Akola Project, Bracelet: The Gambia, Heels: Michael Kors, Hat: Marshall's 
 


Check out my favorite picks from her current crop of prints and swimsuits.
England: Time Travel
Toile fabric is classic and was a popular staple in the 18th century . The design is often used in furnishing for the the old World European look. I love this bikini because the sporty meets retro cut is unexpected with such a classic and traditional style of cloth.
Print: REMIX PRINCESS RUNWAY- STARGAZER
Nautical: Jump on the Yatch
France. Head to Deauville, a pituresque city that has been dubbed as the "queen of the Norman beaches." For resort enthusiasts and luxury lovers this suit says it all. The nautical theme of the cloth was inspired by the Deauville but would look well against the back drop of a Croatian seaside town like Dubrovnik or Milini.
Print: Deauville
Hawaii Dreams
Grab a chair and take a stroll around Waikiki. Home of the luxury stores in the region, this area is a prime spot for vacationing and shopping during your free time. In the 1800s, Hawaiian royalty enjoyed the beach as a backdrop for surfing and socializing.
Print: Waikki  Reef Dreamer
Bavaria. Visit a place that is a bit unknown.
Bavaria, Germany is the hometown of  reknowned cloth maker Christophe-Philippe Oberkampt. Visit the birthplace of the artisan who was granted royal favor from King XVI for his crisp productions of floral prints, Oriental scenes, beautiful birds and pastoral scenes.
Bavaria is next to Czech Republic, Austria and Switzerland so be prepared to country hop. Passports stamps are just a part of the fun! Word of advice: Get a currency converter app on deck for touristy shopping!
Print: TEC-PORCELAIN TOILE-VAMP
Morrocan Nights
Slip into a Morrocan print bikini and enjoy the influence of a culture that is blend of various cultures and influences. Vinelife motifs and geometric shapes are often seen in Morrocan print and architecture.
 Pair with a gold printed shawl and show that you are a pro at playing with the prints. All eyes will be on you. Enjoy it! : )   (scarf via rubylane.com)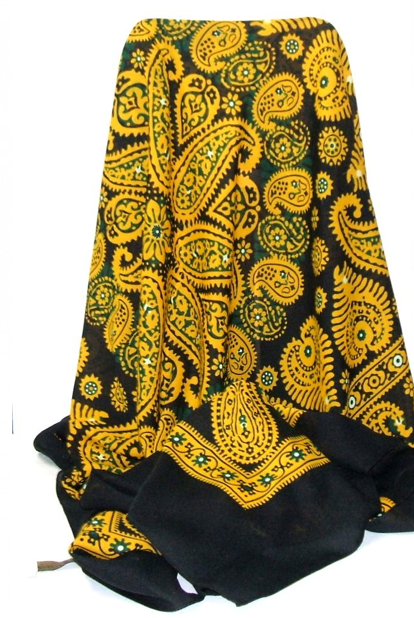 Print: MOROCCAN MEDALLION DIVA
This month and last month has ushered in a Nail-mania celebration at TFB! I hope you enjoy the nail art in today's post! Sometime I make nail design samplers—each finger is a different design that can stand alone on its own as a design. Grab a vibrant print bikini for your summer vacation and rock a matching mani. I have create five different looks and you can see them in detail in a slide show at the bottom of this post.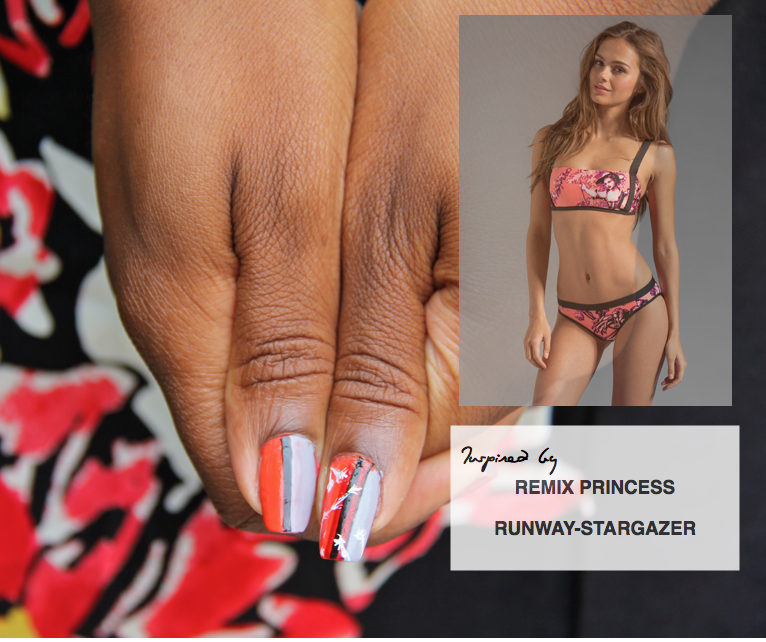 Can you guess which nails are inspired by my top picks?! I had a fun time creating these designs and it actually went by pretty quickly. You too can try it at home—with a lot of patience and precision nail polish brushes to create the detail.
Get inspired and match your nail art to your favorite Nanette Lepore bikini! Redefine your beach style.  I also created a simpler version of each finger  (with a simple line down the middle) for those of you who prefer less fuss. I ended up with different designs on each finer as a result. Weirdly enough it did not clash with my outfit. : )
xx
FashionBrew
NAIL ART SLIDE SHOW
Ps. I forgot to mention that this post is an entry for the WWD MACIC blogger team contest! Cross your fingers and send me lots of love from where ever you are in the world. As a fashion blogger and bikini blogger this would be an amazing opportunity to learn about some of my favorite brands and discover new ones as well!!! Learn more about fashion's hottest bi-annual event via WWDMAGIC. For all of my emerging designers and fashion industry news friends hurry up and follow them on all social media channels! See below for links! : )
 Like on Facebook    Follow us on Twitter     Follow on Instagram