Savage Sunset Editorial + Q & A with Liberian Designer Sonia Josiah & Deets on September Show in LA
Sania Josiah is LA based designer that mixes traditional fabrics with suede, leather, and unique detailing. Her years of schooling and FIDM training puts her to the advantage in a crowded chorus of LA designers—all clamoring to be next. She is currently in the running to win a coveted spot to show during LA Fashion Week that will be sponsored by The LA Fashion Council and their many partners. As a finalist, she is busy preparing her line for a September showcase where she will compete with three other designers. Sania gives readers a peek at her designs with a few cinematic inspired shots taken during sunset that reflect her sleek tailoring and ultracool vibe of her upcoming collection.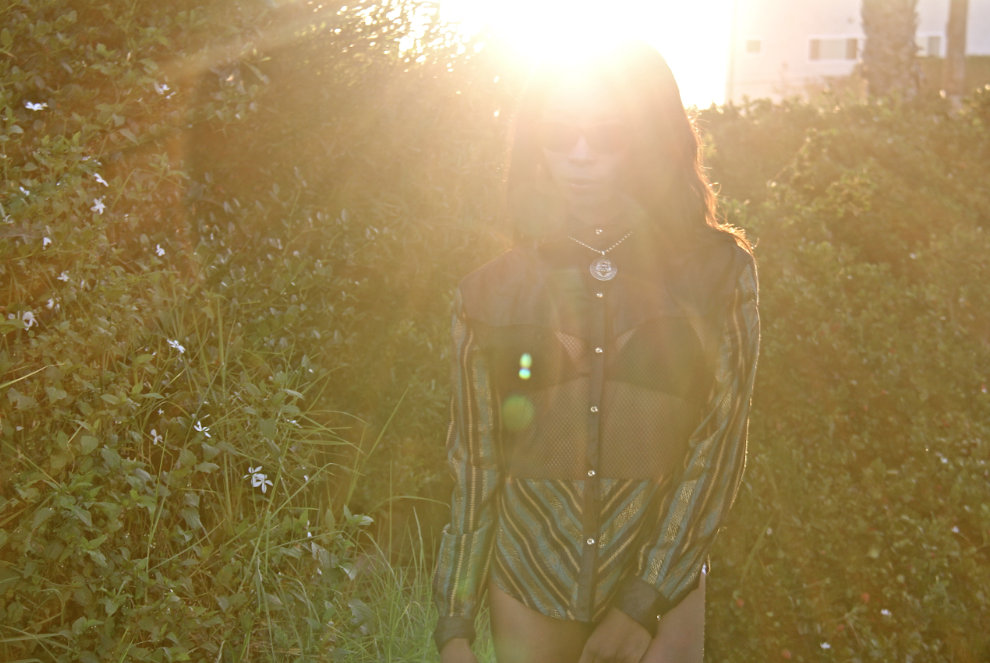 I had a blast shooting our Savage Sunset mini editorial in Playa del Rey. The shoot combined my beach aesthetic with her modern African-inspired designs. As you can see, her take on traditional fabrics is fresh, unexpected and often saucy. Check back later in the month for another  collaboration between myself and Sania Josiah.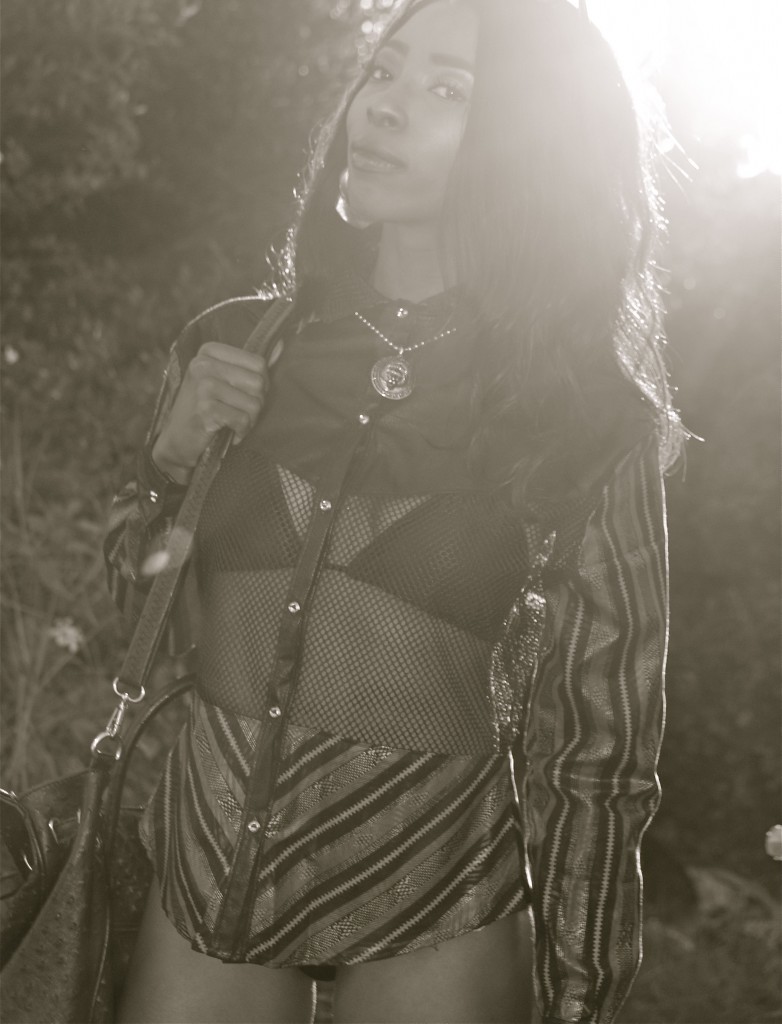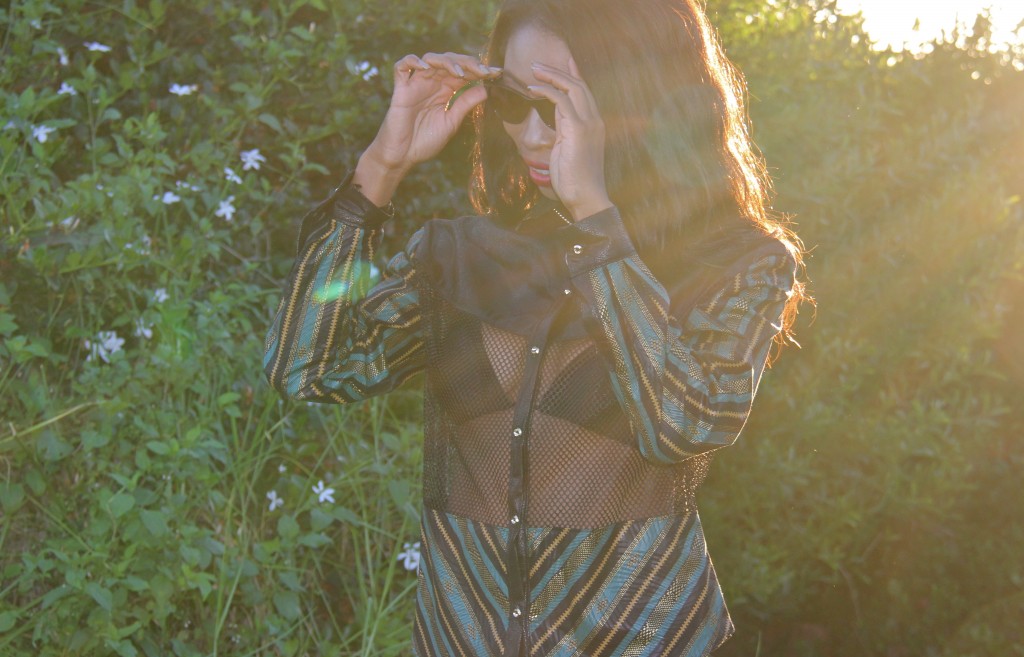 We caught up with Sonia and asked her design process and her experience at the Fashion Institute of Design & Merchandising (FIDM) in downtown Los Angeles.
How was your experience at FIDM? Many African designers both here and abroad dream of going to a fashion school like FIDM.
My experience at FIDM was great! I learned a lot and especially, I got to work closely with industry professionals. Fashion is not for everyone but if it's something that you love and have passion for, you also have to be willing to work hard at it to master your craft.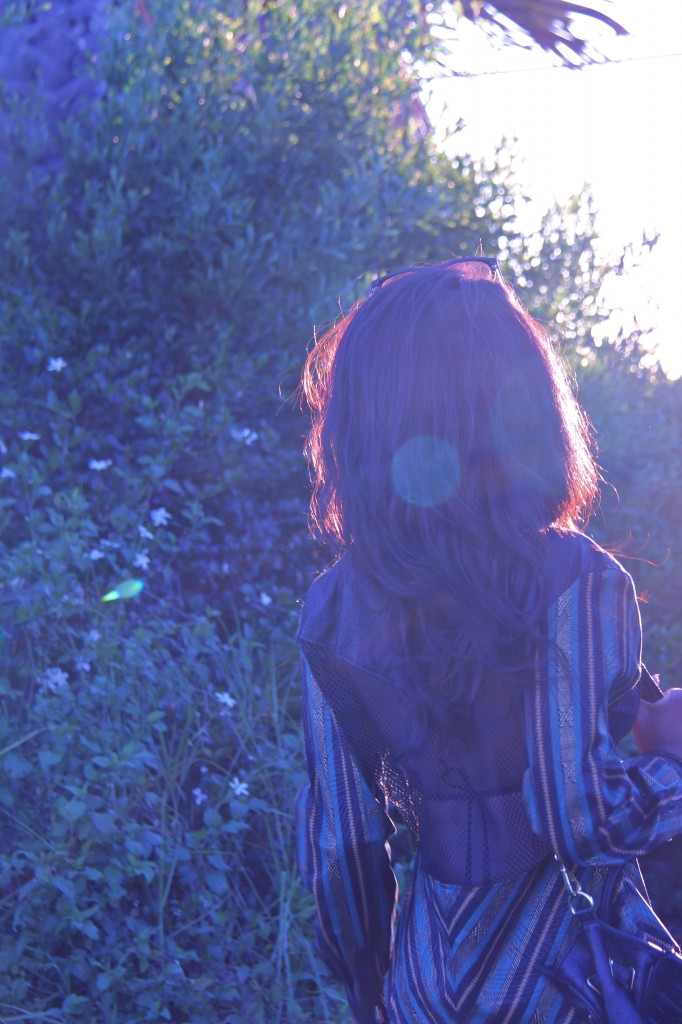 How did you balance the need for you to get a degree and also follow your passion for fashion? 
I had gotten my degree in Textile, Merchandising, and Design (B.S) at the University of Rhode Island. Prior to graduating, I got accepted to FIDM. I was entering the Professional Designation program in Fashion Design (A.A). Getting my degree in the design field was very important. The best thing about it was I was getting my degree in Fashion Design, my passion. I already had one degree under my belt, any not continue to get another focused degree. As a little girl growing up, I watched my mother as she would work, sew. She was and is a seamstress. She had children to raise so she did whatsoever in her power to make sure we went to school, graduated, and have degrees to proof our achievements. And the fact that I am a West African, Liberian, woman makes it extremely important and necessary to make something of myself that will, in the end, benefit my people. I feel that we as African Women have a lot to prove to society that we are very smart and educated. We do have knowledge to become whatever we want. Some were given opportunities and some women, like myself, have to keep fighting for opportunities and go after our dreams.
Many people tend to feel that high fashion is disconnected from every day fashion. However more and more celebrities are sharing their lives and style on platforms like Facebook and Instagram which has created a demand for high fashion style by regular women. As a designer how does your line and pieces translate to the everyday woman?
As a designer, I am mostly drawn to prints, and the color blocking of textiles to create something different. Some people may get it twisted and think that because I incorporate African textiles within my design, I am only catering to African/ African-American consumers. No, that is not the case. I am in love with prints for one. Two, especially African prints being that it is a representation of myself. Why not create garments that symbolizes me as a designer while giving the consumers what they want? It's a win-win situation. My style is described as an urban modernized Afrocentric fashion. I design high-fashion or ready-to-wear clothing. I do not limit myself to one specific category. As an African designer I am taking the non-traditional route. Every woman can wear an SJosiah piece. EVERY woman!
What inspires your creative process?
My creative process. Wow, everything. I am inspired by any and everything thing. My surroundings plus textiles equals my creations. Once I get a design idea, I vision was it will look like when it's finished, then I start making patterns and sewing. After my creation is completed, then I sketch. As you can tell I work backwards but it works for me.
Sania looks forward to increased opportunities to work with stylists and fashion industry members now that she has graduated from her fashion program.
Stay in touch with designer Sania Josiah by checking out her instagram and facebook pages. Facebook: Sania 'Ducez' Josiah   Instagram: @SJosiah
Details on her upcoming runway show in LA are provide below!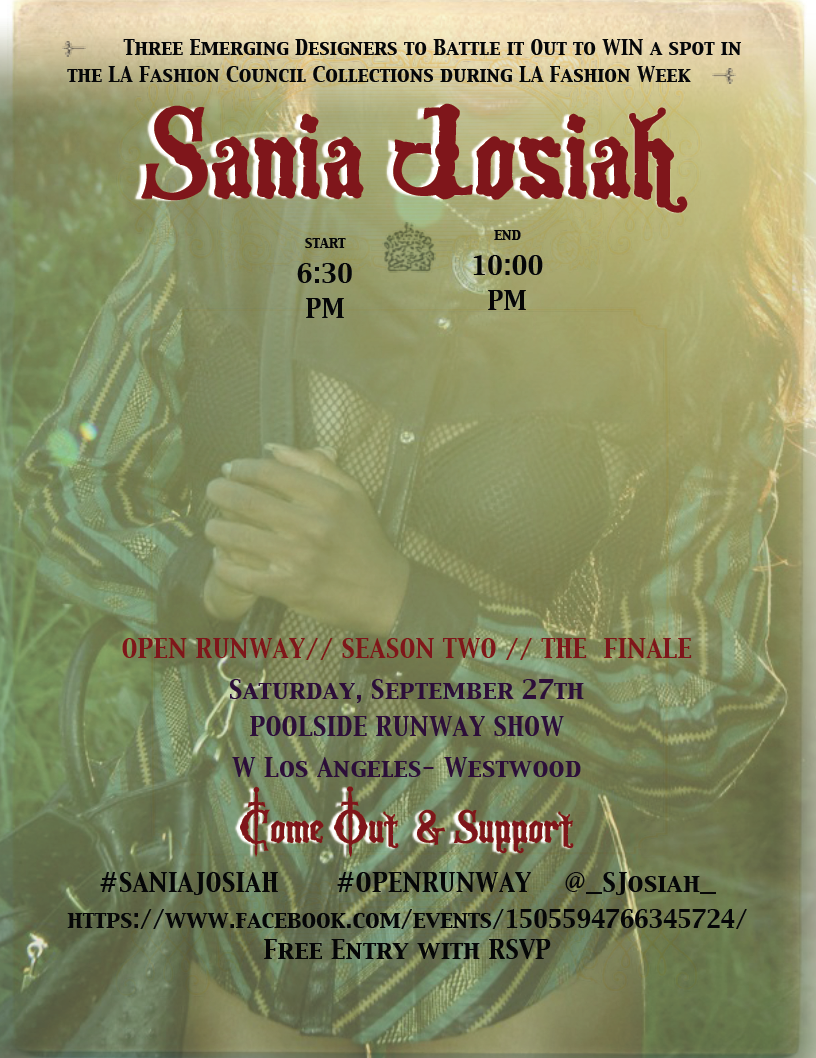 Support FIDM designer Sania Josiah as she competes in the OPEN RUNWAY Finale Competition.
Join us, poolside, as our three emerging designers finalists battle it out to win a spot at the Los Angeles Fashion Council Collections this October.
Free entry with RSVP. RSVP via https://www.facebook.com/events/1505594766345724/.
Fashion Show · Hosted by Los Angeles Fashion Council
• Saturday, September 27at 6:30pm – 10:00pm in PDT